Preview of the 2006-2007 school year. It's not just tuition - room, board and books should be more expensive this year.
NEW YORK (CNNMoney.com) -- The cost of higher education looks like it's climbing ... again.
While the final trend figures for the fast-approaching 2006-2007 academic year are still being compiled, students can expect about a 5 percent increase in both tuition and fees, says Carl Buck, vice president for college funding for the college information firm Peterson's.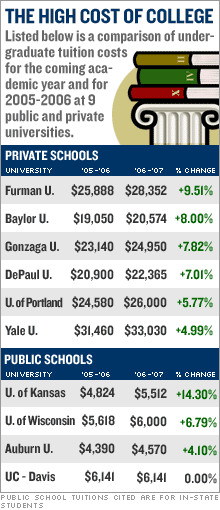 OR

"It is likely that college tuition and fees will continue to rise."
Last academic year, the median annual tuition for a four-year private college crept up 5.7 percent to $16,950, according to an annual college cost survey by Peterson's. And that doesn't include room and board and other fees that can easily push the cost of a private college education above $22,000 a year.
Even students attending a public university in their home state paid 6.3 percent more for tuition in 2005-2006, or $4,224 per year.
A preliminary survey of 10 schools varying in geography and size conducted by CNNMoney.com reveals that the cost of everything from tuition to books to room and board is on the rise for the upcoming academic year.
From a small liberal arts college with an enrollment of 2,000 to a large public university with 10 times as many students, tuition appears to be heading higher.
Auburn University, which boasted the lowest tuition of the state schools polled, reported a 4.1 percent increase in the cost of its tuition, which will be $4,570 this academic year.
Tuition at the University of California-Davis however, will remain unchanged -the California state budget this year provides $75 million to cover any fee increases.
Private universities are reporting big tuition increases. Gonzaga University, for example, will charge $24,950 in tuition this year, a 7.82 percent increase from the last academic year.
Furman University, located in Greenville, S.C., is upping its tuition 9.51 percent this year to $28,352 as the university has just kicked off a $60 million expansion and renovation of its science facilities.
Schools such as Sarah Lawrence College, the University of Richmond and George Washington University, typically considered among the most expensive schools in the country with annual tuition exceeding $30,000, should remain at the top of the list this year, according to preliminary numbers from Peterson's upcoming annual college cost survey.
Room, board and fees
Room and board costs, which rose approximately 5 percent at both public and private schools for the 2005-2006 academic year, appeared to be heading higher based on the schools surveyed.
DePaul University in Chicago estimates that room and board will roughly cost an undergraduate $9,076 this year, a 4.32 percent increase from last year. A student attending the University of Wisconsin at Madison should pay about 6.46 percent more this year for room and board, or $6,920.
Some schools are even projecting that books and supplies will be more expensive. At the University of California-Davis, for example, students can expect to pay $68 more this year on books and supplies, a 4.7 percent increase from last year.
Student fees, which typically cover recreation center costs or campus activities, are up, too. The required fees at Baylor University, for example, are up 5.66 percent this year to $2,240.
Between the 2004-2005 and 2005-2006 academic years, student fees were among the fastest-growing areas for college costs, according to Peterson's. The median fee increase at private schools was 9 percent, while public university students experienced a 8.7 percent increase.
Who's getting squeezed?
And if this year is anything like past academic years, says Buck, the out-of-state students attending public universities might experience the biggest percentage increase in tuition. In 2005-2006, the median tuition for that same student was $11,577, up 8.5 percent from the previous academic year.
"For recent years, the median increases in tuition and fees at public institutions have surpassed the same at private schools, especially for out-of-state students," he observed. "While the collection and analysis of tuition data is ongoing for 2006-07, it is safe to say that this trend will continue for the immediate future."
_______________
Who's afraid of paying for college?
Lucrative college degrees