Drop in cost of gasoline results in unexpected reduction in total retail spending, but sales excluding those at gas stations increase.
NEW YORK (CNNMoney.com) -- Spending at the nation's retailers fell in September, according to a government report, but a big part of that drop was a result of reduced spending at the gas pump.
The Census Bureau reported that retail sales fell 0.4 percent in September, following a revised 0.1 percent rise in August. Economists surveyed by Briefing.com had forecast a 0.2 percent rise in sales.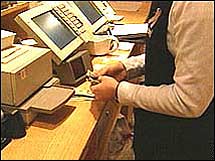 Find the best credit card for you among thousands of issuing banks.
Select a card type from the pulldown menu and click on the arrow to begin.
But gasoline station sales fell 9.3 percent in the month compared to August, as gasoline prices fell sharply. Excluding what was spent at gasoline stations, retail sales rose 0.6 percent in the month.
Just about every class of retailer measured by the government report, except for food and beverage stores and auto dealers, saw improved sales in September. Spending at clothing and clothing accessory stores led the way with a 3.0 percent gain, while general merchandise stores, such as department stores, posted a 1.1 percent rise over August.
Spending by consumers, the key component of retail spending, accounts for more than two-thirds of the nation's economic activity, and thus the retail sales reading is an important factor in determining the strength of the economy.
While economists and investors now expect a slowing economy in the second half of the year, the Friday report suggested that consumer spending could get a boost from falling gasoline prices, which could allow them to spend more on other products.
The government's weekly reading of gasoline prices saw the average price of a gallon of gas fall nearly 20 percent from the end of August to the end of September.
"Retailers had a very positive month in September, as consumers took the opportunity provided by lower fuel costs to prove once again that they are more resilient than analysts tend to recognize," said Gina Martin, an economist with Wachovia. "The good news is that gas prices have continued to fall so far this month, and should help to keep spending relatively steady in October."
In another sign of the resilience of the U.S. consumer, the latest survey from the University of Michigan Friday showed its consumer confidence index jumping to 92.3 from 85.4 at the end of September. Economists had only expected that index to edge up to 86.5.
But Martin said it is too soon to say that consumer spending will be strong enough to keep the economy humming through the fourth quarter of the year, although she is hopeful.
"The bad news - prices might not fall much further," she said. "After this month, consumers will likely have to turn elsewhere for inspiration. However, wage growth has exceeded the pace of retail sales for the last five months (bottom graph). Higher wages may be just the thing consumers need to push through the holiday season."
The nation's leading retail chains reported generally strong sales in the month, as department stores Kohl's (Charts) and JC Penney's (Charts) and Nordstrom (Charts) had big jumps in sales at stores open at least a year, a closely watched retail measure known as same-store sales. But No. 1 retailer Wal-Mart (Charts) reported only a 1.3 percent gain in same-store sales, which was lower than its early reading for the period.
Overall retail sales excluding spending on autos and auto parts, another closely-watched measure of sales strength in Friday's report, fell 0.5 percent in the period. Economists had forecast that sales measure would be unchanged for September.
The number of new vehicles sold in the month fell 8.9 percent from August, when automakers made a push to sell 2006 models to make room for 2007 models in showrooms.
But the government report, which showed auto sales little changed from August, is adjusted for that seasonal change.
The government report also measures money spent on autos, rather than the number of vehicles sold, and the newer models sold in September often go for a higher price than the previous-year's models that make up most of August's sales.
Retailers report sizzling September sales