NEW YORK (CNNMoney.com) -- If you're dreading your aunt's gift again this year, here's what you should do to ensure a seamless return - don't open it, don't shake it and definitely don't kick it around.
Eager to curb gift return, retailers are continuing to make it more difficult for consumers to return holiday presents and get money back for unwanted and opened gifts. In fact, shoppers may be in for some nasty surprises the day after Christmas as stores continue to use strict policies.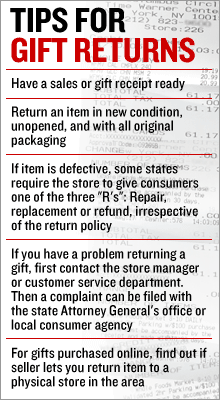 Retail industry experts point out that too many people are making the basic mistake of taking an unwanted gift out of its original packaging and worse, using it, before attempting to return it.
"We are our own worst enemy," said Edgar Dworsky, a consumer advocate and editor of Consumerworld.org.
"One common example is when consumers buy a camcorder on a Friday, use it for a weekend wedding and then return it on Monday," Dworsky said.
"As a consumer, if I'm buying an electronic item, I want the box to have the factory seal on it, otherwise I don't think of it as a fresh product," he said.
For that reason, retailers lose money reselling opened returns. "They're usually forced to discount the products," Dworsky said. "I'm not surprised that Best Buy (Charts) and other electronics stores impose restocking fees for opened items," he said.
Restocking fees, charged to customers for returning opened items, are a percentage of the selling price, usually about 15 percent.
Retailers are cracking down on returns to prevent abuse. They are are also trying to protect their profits during the crucial November-December gift-buying months, which account for as much as 50 percent of their sales and profits.
Blacklisting serial returners
So what should consumers expect this year?
More complicated return policies, a "blacklist" of "serial returners," and restocking fees, Dworsky said.
For instance, some retailers including Home Depot (Charts), Wal-Mart (Charts) and Sports Authority already use a computer database to track the number of returns that individual customers make.
Typically, stores swipe the shopper's driver's license when a return is being made, and if the store's return limit is exceeded, the return is denied, explained Dworsky.
While some stores' posted policies do not warn shoppers of a cap on frequent returns, he said other stores, like specialty apparel seller Express and The Limited, are for the first time explicitly disclosing these return limits at their stores.
Consumer expert Jennifer Litwin advises consumers to be aware of restocking fees.
"Don't open your present unless you're planning to keep it or you may get a restocking fee," she said. This usually applies to furniture, bedding, computer equipment, and camcorders and other electronics.
"Over the last few years, 30 percent of electronics and home furnishings returns have occurred after Christmas. So retailers are clamping down hard with returns to not lose profits," Litwin said.
Restocking fees can be as high as 15 percent of purchase price at stores like Best Buy, Circuit City, Apple, Pottery Barn and Target (Charts), she said.
Besides restocking fees, some stores are imposing shortened return periods, or offering no refunds at all.
Target won't accept returns without a receipt. Amazon deducts 20 to 50 percent off the selling price for certain returns after 30 days.
J.C. Penney (Charts) requires special occasion dresses to be returned with the "return tag" still in place. "This thwarts shoppers from 'wardrobing' for a one-time wearing," Dworsky said.
Both Dworsky and Litwin said the onus is on consumers to educate themselves about stores' return policies, even though retailers are doing a better job of featuring return disclosures more prominently.
Their No. 1 tip for consumers is to hold on to the sales or gift receipt.
"It is not unreasonable [for retailers] to require customers to provide a sales slip or gift receipt to establish where and when the item was purchased, and at what price," Dworsky said.
This is also relevant for gift cards, Litwin said. "When buying gift cards, keep receipts and give them to the recipient. That way, if it gets lost, they will have a record of it."
"The days of converting [gift cards] to cash are over. It can be exchanged for merchandise only. While most gift cards won't expire, some stores, like Bloomingdales, still put a [two-year] time limit on card use," she said.
Daniel Butler with the National Retail Federation (NRF) doesn't think retailers are being stricter. "They're just being smarter," he said. "It's in retailers' interest to take care of legitimate returns. What they're doing differently is using new technology to discourage incidents of fraud, which does impact their business."
So you want that PS3? Good luck
Warm weather chills holiday sales
Cyber Monday sales hit record $608 million