NEW YORK (CNNMoney.com) -- The holiday season brings out more than yuletide and cheer. Thieves are also hard at work.
We'll tell you how to avoid some new scams this holiday shopping season.
1: Beware new gift card scam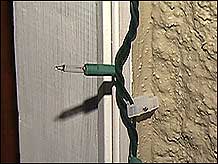 CNN's Gerri Willis shows how to safely string outdoor Christmas lights during the weekend. (December 2)
Play video

People will spend almost $25 billion buying gift cards this year. And that's ushered in a whole new kind of gift card scam.
Scam artists are stealing money from gift cards before you get to use it. The Better Business Bureau says this has become an issue over the past 2 months. Here's how it works:
Thieves copy down the activation number on the back of the gift card. They wait a few days for you to buy the card and activate it. They can then use the numbers they've jotted down to go on a spending spree...online.
Protect yourself by only buying gift cards that have scratch off PIN numbers or the PIN number is behind a peel. You may also want to purchase gift cards that are behind the cashiers' counter.
As always, keep your receipt. If you become a victim of this scam, you may be able to reclaim some of the money.
2: Screen your holiday greetings
With more and more people sending holiday cards out via e-mail, Cyber thieves are taking advantage and sending out their own versions of e-greetings. But this is one sentiment better left untouched.
These e-mails look like they are sent by a friend or family member, but it's really a scam artist intent on getting your Social Security number or your credit card information. It's really just a new play on the old phishing scam.
And if you're listed on social networking sites, like facebook.com or myspace.com, you may also receive e-mail messages that use the information that's posted to lure you into revealing personal data.
Your best defense is not to open any e-mail from people you don't know. Don't reveal any information...ever.
3: Don't re-enter your information
About 61 million people plan on hitting the Web rather than braving the stores this holiday season. And that means payday for a lot of scam artists. But there's a new twist.
If you've placed an order at an e-tailer like Amazon.com (AMZN (Charts)) or Walmart.com (WMT (Charts)), there's a chance you could get an e-mail stating there has been a problem with the order and you need to re-enter your credit card number, says Ed Dworsky of Consumerworld.org. But don't do it.
"No legitimate Internet seller will have you go online to re-enter your information," he says. Instead, you should call the e-tailer itself, or check your order status on the e-tailers' Web site.
4: Steer clear of charity scams
Charity scams are the number one scams this time of year, according to the Better Business Bureau. Some of the most popular scams around the holidays involves war veteran groups.
Scammers are playing on generosity people feel when they see uniformed soldiers. "It can be a very effective ploy," says Art Taylor of the Better Business Bureau's Wise Giving Alliance.
Another popular scam around the holidays is police or fire fighting charities. People want the chance to give to their local heroes, says Taylor. But most of the money you donate will go right to telemarketers.
To protect yourself, don't donate to a charity that solicits door-to-door, over the phone or by e-mail. "That's not the way legitimate charities do business," says Taylor.
Instead, you should receive a letter and also look for the Better Business Bureau seal of approval. You'll also want to go to http://www.give.org/ or charitynavigator.org which evaluates the financial status of organizations.
--------------------------------------------------------------
Gerri's Mailbox: Got questions about your money? We want to hear them! Send e-mails to toptips@cnn.com or click here - each week, we'll answer questions on CNN, Headline News and CNNMoney.com.