NEW YORK (Fortune) -- When Tom Downie and Rebecca Romajas first laid eyes on their 18th-century Connecticut colonial, they knew they had to have this historical gem. It had rough edges, so soon after purchasing it in 1999, they got to work. Tom, 35, a public relations manager, laid a stone patio. Rebecca, 33, a senior technical director for AT&T, framed the unfinished windows in the sunroom.
Soon they decided to tackle projects that went beyond the do-it-yourself level, so they borrowed $32,000 from a $60,000 line of credit and called in the pros to do something about their Brady Bunch-era kitchen. The terms of the deal: They were required to pay the interest only on a variable monthly rate of prime plus 0.99 percent. Rates were low at the time, but to be safe, they chipped away at the principal. (Tom and Rebecca have always been cautious when it comes to debt. As exotic mortgages were proliferating, they stuck with a 30-year fixed loan, which they refinanced in 2003 to a 15-year fixed.) Four years later the loan amount is down to $23,000.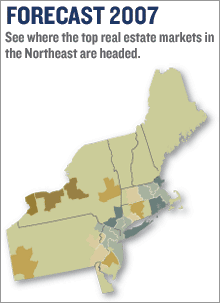 During that time the Fed raised short-term rates 17 times, and the Downies' monthly interest payments have risen along with those hikes (last month their rate was 9.24 percent). To get the most for their money they've decided to roll their line of credit into a fixed-rate loan. But before accepting their bank's kind offer of 8.5 percent on a five-year fixed, they're shopping around.
"I'll get four or five offers," says Rebecca. "I'll write them all out in a notebook and compare each one."
The Downies couldn't have chosen a better time to look for money. In 2003 the mortgage industry originated $3.8 trillion worth of loans, according to the Mortgage Bankers Association. Next year it will hand out an estimated $2.1 trillion. "That's nearly a 50 percent drop in volume, which means there's tremendous pressure on company earnings," says Doug Duncan, chief economist with the MBA. "They're going to negotiate to get your business."
Bank of America offered the Downies the same loan for 8 percent with no fees. Webster offered 7.74 percent. Wachovia came down to 7.44 percent with $230 in fees. And TD Banknorth's rate is 6.49 percent, as long as the payments are deducted automatically from their checking account.
6 strategies to survive the bust
Step away from the exotic mortgage
NEXT: Keep an eye on your equity
Reporter associate Doris Burke contributed to this article.
__________________________________
More from Fortune Investor's guide