NEW YORK (CNNMoney.com) -- Homebuilding activity rebounded from a six-year low in November, but builders' applications for future projects fell to the lowest level in nine years, the government said Tuesday in a report suggesting the worst is not over for the housing market.
Builders started work on new homes at an annual pace of 1.59 million in November, up from the 1.49 million rate in October, which had been the lowest reading since July 2000, the Commerce Department reported. Economists surveyed by Briefing.com had forecast that starts would climb back to an annual rate of 1.55 million.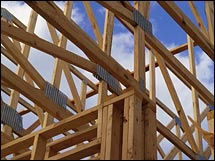 Building permits, which are seen as a measure of builders' confidence in the market, fell to an annual rate of 1.51 million from a 1.55 million pace in October. That was the lowest building permit level since December 1997, according to government figures. Economists had forecast that permits would slip slightly to a 1.54 million rate.
While housing starts rebounded last month, they're still weak compared to the building boom seen over much of the past decade. The November reading was still the second-lowest in the last five years, behind only the October figure, the figures showed.
This means that homebuilding remains under pressure, according to experts, largely thanks to a glut of new and existing homes on the market.
"The market in general is heading downward," said Dean Baker, co-director for the Center for Economic and Policy Research, who has long maintained that the run-up in prices and building in recent years has caused a market bubble. "There is a very big supply of new homes. Vacancy rates for owner-occupied units are at a record high. You have tremendous oversupply."
Paul Kasriel, chief economist at Northern Trust, said that housing starts were off 27.8 percent in November from a year earlier, the biggest year-to-year decline since a 32 percent drop recorded in March 1991.
"There still is a lot of excess inventory, [in] both new and used homes," he said, adding that builders are cutting prices to move homes. "They're working through inventory and they're not going to be eager to go out and start a lot of homes right now. I don't think we're at the bottom of this yet."
The slide in permits is a clear indication of the shape of things to come, said David Seiders, chief economist for the National Association of Home Builders, who believes that housing starts won't bottom out until the first quarter of 2007.
"The persistent downslide in permits points towards further erosion [of housing starts,]" he projected.
In addition, Seiders said the "backlog of permits can be used by builders when the weather turns surprisingly good."
Unseasonably warm weather in the fall and winter is often a strong catalyst for home construction, but analysts said it's unclear just how important that is in 2006. The backlog in inventory is a much bigger concern, according to analysts.
William Wheaton, research director and economics professor for the Massachusetts Institute of Technology Center for Real Estate, is even more bearish going forward and said the decline will continue for years, not months.
"I see a slowdown in this industry for at least the next two or three years, and I don't think permits have reached the bottom," said Wheaton, who agreed with other analysts in saying that oversupply is to blame. He said that the past two years have seen 2 million new units built per year, about 700,000 more than is needed on an annual basis.
Wheaton expects more bad news for next month: "If starts are up and permits are down in this period, I would expect starts to drop in the next period."
Homebuilders have been reporting sharply lower sales and revenue and cutting back on their forecasts going forward. The most recent was Hovnanian (down $0.70 to $34.55, Charts), which Monday evening reported a net loss for its fiscal fourth quarter and cut its outlook for 2007 to a low below average forecasts on Wall Street.
Other leading homebuilders to be hit by the slump in new home sales include Pulte Homes (down $0.56 to $32.37, Charts), Lennar (down $1.15 to $51.51, Charts), Centex (down $0.67 to $54.93, Charts), D.R. Horton (down $0.29 to $26.52, Charts) and KB Home (down $0.48 to $50.41, Charts).
--Chris Isidore, CNNMoney.com senior writer, contributed to this report.
---
Hovnanian sinks on losses, outlook
Fannie Mae regulator sues former execs
Homebuilder sentiment slips in December