NEW YORK (CNNMoney.com) -- Robert Nardelli, the CEO of Home Depot who came under fire for the size of his pay package as well as his management style, stepped down and will leave the No. 1 home improvement retailer with a $210 million severance package, the company said Wednesday.
Home Depot said Nardelli resigned effective Tuesday and that vice chairman Frank Blake would succeed him. In a statement, Home Depot said the board and Nardelli had "mutually agreed on the decision."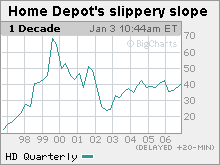 The $210 million in severance includes stock options and other compensation and is subject to certain conditions, it added.
Nardelli had faced growing criticism from shareholders for what some of them called a very "generous" compensation package relative to the stock's weak performance, slowing profits and a regulatory probe about its options practices.
But to his credit, Nardelli's tenure also coincided with one of the most profitable periods for the company.
"The timing of his departure is a big question," said Joseph Feldman, senior analyst with research firm Telsey Advisory Group. "The company has worded it one way but it's probably a combination of Nardelli feeling inside pressure and maybe also feeling it was the right time for him to step down after being CEO for six years."
Shares of Home Depot (Charts) jumped about 3 percent Wednesday morning while rival Lowe's (Charts) gained about 3.5 percent.
Home Depot shares fell 1.4 percent last year while the S&P 500 climbed 13.6 percent. Lowe's shares fell 7.2 percent over the same period and lost more than 20 percent versus the S&P.
Not the 'right guy' anymore
"The main positive of Nardelli's resignation is that it removes the element of risk to owning Home Depot stock going forward," said Bill Schultz, chief investment officer at McQueen, Ball & Associates, an investment firm that owns about $3 million in Home Depot stock.
Schultz said Nardelli was "the right guy" when he was hired as CEO in 2000, but not anymore.
"At the time when [Nardelli] came in, Home Depot was a maturing company. There was a less focus on the cost side of the equation, especially when sales were astronomical, Schultz said.
Other analysts and a former Home Depot official agreed.
"Under [co-founder] Bernie [Marcus], Home Depot was a small, homespun company," said the former company official, who did not want to be identified.
"Marcus' background was that he was a door-to-door salesman and a part-time stand-up comic. He knew how to work the crowd. He was a brilliant leader and very well-liked in the company," the official said, but added that as Home Depot's growth took off, some people inside the company felt that more discipline was needed.
"Nardelli brought discipline. But the change in gears was shocking to a lot of people who were accustomed to Bernie's laid-back style," the official said. "This caused a lot of people to leave the company over the years," he added. "One-on-one Nardelli is smart and warm-hearted. But it's not seen in group situations."
Marcus and Arthur Blank co-founded Home Depot in 1978 and ran the Atlanta-based company until Nardelli was brought in as CEO in 2000.
"Under Bob Nardelli's leadership, [Home Depot] has remained number one in the industry and has grown to more than 2,000 retail stores with more than 355,000 employees," said Marcus in an email to CNNMoney.com. "I know Frank Blake as both an executive and an administrator, and I have the utmost confidence that his leadership and people skills will continue the legacy of The Home Depot."
"I do support the mutual decision made by the Board and Bob Nardelli today," he added.
Telsey's Feldman credits Nardelli with streamlining Home Depot's operations and implementing technology to improve the supply chain.
But now, Home Depot needs to reinvigorate growth in the U.S. market and boost overseas growth as it fights growing competition from Lowe's, analysts said. Another big challenge: integrating its lucrative, fast-growing wholesale supply business.
"Nardelli has run Home Depot pretty efficiently for a majority of his six years," Feldman said. To his point, Home Depot's earnings-per-share [EPS] have increased 20 percent a year for the past four years. However, the company expects EPS growth for its current fiscal year ending January to increase only between 4 to 5 percent.
Feldman cited two obvious reasons for the slowdown:"Generally it's hard to improve on large numbers. Home Depot is a big $90 billion company. It's profit growth has slowed but it still generates solid earnings," he said.
And second, he said, softness in the housing sector tends to dampen business for home improvement retailers.
Looking ahead, McQueen, Ball & Associates' Schultz said he hopes Nardelli's successor is a break from the "no flexibility" and "autonomous" management style that came to characterize Nardelli's reign. "The company needs a more innovative and constructive leadership," he said.
Blake joined Home Depot in 2002 as executive vice president of business development and corporate operations. He previously served as deputy secretary for the Department of Energy.
The former Home Depot official called Blake "personable," a strong administrator, with very good relations with Washington.
Said Feldman: "Blake's been with the company for four years. He's a strategy guy. Strategically the company is in good hands."
Home Depot currently operates 2,127 stores in the United States.
The company announced other management changes as well. Chief financial officer Carol Tome and Joe DeAngelo, executive vice president of the company's supply business, HD Supply, will assume additional duties.
Tome will take on responsibility for mergers and acquisitions, credit services and other strategic areas. DeAngelo was appointed to the newly created post of chief operating officer.
Some shareholders criticized Nardelli's separation agreement, which entitled him to an exit package of about $210 million, including amounts previously earned or vested, under the employment contract entered into in 2000.
The package includes payment of account balances under the company's 401(k) plan and other benefit programs valued at about $96 million.
Laborers' International Union of America (LIUNA), which represents more than 800,000 workers in the United States and Canada, said that the group will ask Home Depot to adopt a shareholder proposal filed by its affiliate - Massachusetts Laborers Pension Fund - that requires the board get shareholder approval for "extraordinary retirement benefits."
LIUNA's pension funds holds over $32 billion in assets, including Home Depot shares.
"As long-term shareholders of Home Depot, we believe the board has an obligation to be responsive on this issue and make changes to compensation practices so that shareholders are not faced with similar windfalls for future departing executives," LIUNA president Terence O'Sullivan said in a statement.
-- Analysts and investors interviewed for this story do not personally own shares of Home Depot.