NEW YORK (CNNMoney.com) -- Kick yourself - hard - if you didn't buy that $990 Westinghouse 37-inch, 1080p LCD TV back in December. Unfortunately, industry watchers say this year's Super Bowl TV deals probably won't be as juicy as those holiday blowout bargains.
Since Super Bowl is the most-watched television event of the year, it's regularly a big driver of new television purchases, according to the Consumer Electronics Association (CEA).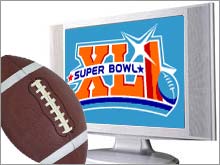 And since CBS is broadcasting Super Bowl XLI in high-definition, that might motivate sports enthusiasts to upgrade not just to a digital TV (DTV) but to a high-definition digital television.
Marshal Cohen, chief industry analyst with market research firm NPD Group, tracks monthly TV sales and agrees that January typically happens to be the most important month for television purchases.
Because retailers also use the popularity of Super Bowl to clear out their inventory of older TV models, consumers have become accustomed to seeing big pre-game discounts, Cohen said.
However, Cohen expects No. 1 and No. 2 electronics retailers Best Buy (Charts) and Circuit City (Charts) to revise that gameplan this year, especially after both companies saw their third-quarter profits flattened by the intense holiday price wars on flatscreen televisions, digital cameras and other must-have gadgets.
Indeed, Best Buy and Circuit City indicated they would hold back on any more post-Christmas deep discounting.
To that end, Deutsche Bank analyst Michael Baker noted in a research report last week that Best Buy's "profitability on the television business has stabilized, as prices on TVs are up since November" and that Circuit City, too, "has seen some price stabilization since reporting its third-quarter miss."
What does all this mean for you?
"It's simple. No more big sales on flat-panel TVs before Super Bowl," said Cohen, adding that retailers realize that if they heavily promote these items again, they'll have a very difficult time making their same-store sale numbers for January.
Same-store sales, which compare sales at retail stores open at least a year, are a key metric of retail performance.
Besides, year-over-year retail prices for flat-panel TVs have already dropped by almost 40 percent, according to industry reports.
"In consumers' minds, that drop is substantial enough to buy the TV anyway, even if they don't get more discounts this month," Cohen said. "And retailers don't want to shoot themselves in the foot again by slashing TV prices for the second time."
"The most aggressive promotion that I've seen so far is from Costco (Charts), which is a $250 coupon on a 47-inch TV. Even that isn't a huge bargain."
Instead, retailers are bundling TV discounts with other products. Analysts say this is a clever way for stores to sell more products and preserve their profits margins.
For example, Best Buy is offering the "HDTV Complete Advantage" incentive just in time for Super Bowl. Customers who purchase a flat-panel television along with installation and/or a subscription to an HD satellite or cable service can get up to $300 off the price of the television.
Circuit City spokeswoman Jackie Foreman confirmed that the retailer would also have TV promotions before Super Bowl, but she declined to comment on the level of those promotions.
Wal-Mart (Charts), the world's largest retailer, currently has "rollbacks" on big screen TVs on its Web site. But at first blush, the range of discounts doesn't appear to be as deep as what it offered its shoppers during the holidays.
Still, consumers shouldn't despair just yet, Cohen said, since retailers will probably ultimately have to make markdowns.
"This year, it's probably better to wait to buy the big screen TV until after Super Bowl if you can," he advised. "Retailers have to make space for the 2007 models. So if they're not cutting prices that much now, they've have to eventually or else they're stuck with old inventory."
Britney's Fed-ex goes to the Super Bowl
Circuit City sets smaller store, new kiosks