NEW YORK (CNNMoney.com) -- Even though your man may have spent a fortune on an HD-TV, he'll try to make it up this Valentine's Day by splurging on you, according to a survey released Thursday by the National Retail Federation.
The survey, conducted by BIGresearch, said that men historically have been know to be big spenders and this won't be any different as they plan on forking out $156.22, which nearly doubles the $85.08 that the average female plans to spend.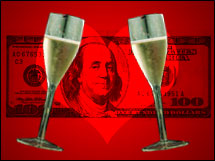 "Men continue to be the primary spenders when it comes to splurging on gifts for Valentine's Day," Tracy Mullin, NRF President and CEO, said in a statement. "With males spending significantly more this year than females, men may be looking at Valentine's Day as a way to make up for that HD-TV they splurged on for the Super Bowl."
The most popular gift remains to be flowers, which 58.3 percent of men plan to buy their mate, following cards (56.7 percent), candy (42.9 percent), an evening out (53.1 percent), and jewelry (27.6 percent), the survey said.
According to the trade group, this year both men and women plan on spending $119.67 on average Valentine's Day, up from $100.89 last year, with total 2007 spending for the holiday expected to reach $16.90 billion.
The survey found consumers plan to spend the bulk of their money on spouses or significant others but plan on giving creative inexpensive gifts to other people in their lives, such as family members and friends.
Valentine's Day: No skimping this year