NEW YORK (CNNMoney.com) -- A rebound in oil prices? Mixed economic news? Disappointing earnings forecasts? The stock market doesn't seem to mind.
Last week was the Dow's best since November and the the S&P 500's best since August.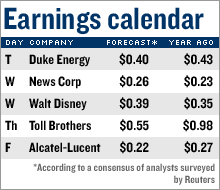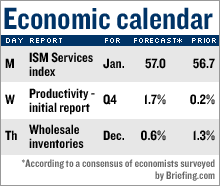 And while the week ahead may not be as much of a blockbuster, there's little to suggest an upset is on tap.
"The bears have yet to take any charge in six months and the background macro picture is improving for the equity markets," said Barry Hyman, equity strategist at EKN Financial Services.
Next week brings a slew of earnings reports, but few of them are market moving other than Cisco Systems (Charts) and Walt Disney (Charts) (see chart for details).
And with few economic reports on tap, there's little that could shake the upbeat economic outlook in the week ahead.
Eye on the economy
Last week, the Federal Reserve voted to hold a key interest rate steady at 5.25 percent for the fifth meeting in a row, as economists had predicted. In its closely-tracked statement, the central bankers said the economy is holding up despite the slowdown in housing, and that inflation is moderating.
All of which "means the Fed is firmly on hold for the time being," said Stephen Stanley, chief economist at RBS Greenwich Capital.
Reports on fourth-quarter gross domestic product growth, durable goods orders and consumer spending released last week all added to the Fed's economic assessment.
Even Friday's smaller-than-expected rise in January payroll growth didn't flutter markets, with investors focused on the upward revisions to the last few months of payroll numbers and a smaller rise in average hourly earnings, or wage inflation.
Next week's standout economic reports include fourth-quarter productivity and the January reading on the services sector of the economy. Both are relevant, but neither are typically market movers.
"It's hard to envision anything serious to pull down the markets, even though we haven't seen a substantial correction yet," Hyman said.
Hyman was referring to concerns some market experts have had that the more than four-year old bull market is due for a more substantial selloff than has been seen.
Chris Johnson, chief investment officer at Johnson Research, says he doesn't need to see a 10 percent correction, but even a smaller pullback would help.
He says the fact that investors haven't responded that much to the stronger-than-expected quarterly earnings "could be a sign that investors have been buying with both hands for months and maybe they're starting to get tired."
However, even should that happen, any pullback would likely be a short-term event, the analysts said, leading to another leg up, due to the supportive factors that remain in place.
And hey, if those factors flag, there's always the trifecta, with the old January Barometer, Presidential Cycle and Super Bowl indicator all lining up to help.