NEW YORK (CNNMoney.com) -- "Gluten-free" has officially kicked low-carb to the curb.
"I can unequivocally say that the low-carb food trend is dead," said Lynn Dornblaser, analyst with market research firm Mintel.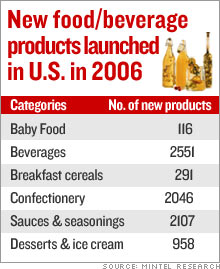 That was among the key findings of the latest annual study from Mintel that tracked new consumer product launches worldwide in 2006.
According to the report, a record 182,000 food and non-food products hit store shelves globally last year, a 17 percent gain on 2005 product introductions.
Of that number, about 30,000 products were launched in the United States alone.
New foods and drinks accounted for more than half of all new products, or 150,000 products. If you break that number down further, that's about 300 new products for every day of 2006.
Low-carb has flat-lined
What makes Dornblaser so confident about the low-carb demise? Only 500 products labeled "low carb" debuted last year, she said.
That's less than half the number of low-carb products that were introduced globally in 2005 and only 15 percent of the low-carb products launched when the fad was at its peak in 2004.
"In 2004 we tracked some 3,500 products that were marked low-carb," she said.
Instead, consumer products companies lately have jumped on the "gluten-free," "no trans-fat" and "reduced fat, calories, sugar and cholesterol" bandwagon.
The report said that products claiming to be "gluten-free" saw an 86 percent jump in new product launches last year, fueled by strong category growth in North America, Europe and Latin America.
This isn't simply a case of one food trend replacing another, Dornblaser said, "It's more complicated than that."
"In the 1980s, health consciousness was all about calorie intake. So we saw the explosion of brands like Lean Cuisine, Weight Watchers (Charts) and Healthy Choice," she said.
ConAgra Foods (Charts) introduced the first line of low-calories Healthy Choice products in 1988.
In the 1990s, the focus shifted to low-fat and fat-free. "In this decade, the focus is on low-carb. But low-carb foods have progressed from the least complicated type of products to those that address the most-complicated components of low-carb," she said.
For instance, the Food and Drug Administration (FDA) defines "gluten-free" as food that does not contain any of the following: An ingredient that is any species of the grains wheat, rye, barley, or a hybrid of these grains.
Further, Dornblaser pointed out that stricter food labeling and nutritional guidelines mandated by the FDA is also fueling the growth of "healthy" products.
In other trends, the report said new food and beverage products that made "ethical claims" such as biodegradable or linked to Fair Trade, doubled in number in 2006 while new products labeled as "organic" grew 30 percent year-over-year, the report said.