(Business 2.0 Magazine) -- Right about now, the number of mobile-phone subscribers in the United States is closing in on 225 million - a number equal to 75 percent of the population.
Why does that milestone matter? Because, according to a study by London-based mobile-OS maker Symbian, that level of users is a tipping point: Wireless carriers start to need software companies more than the other way around.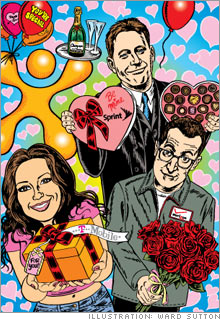 Competition increases, revenue from basic voice services drops, and providers need cool applications to differentiate themselves. "We've seen that play out in Japan and other regions," says Jerry Panagrossi, Symbian's vice president for U.S. operations. "There's a clear connection between market saturation and the uptake of services. It tends to occur at 75 percent."
That makes 2007 the year when Silicon Valley becomes the power player in the $118 billion U.S. cell-phone market, and when it starts to become as easy to grow a business on a handset as on a desktop.
By the time you read this, you'll know if the Apple (Charts) Phone is Steve Jobs's latest hot product or merely the latest in a long line of unfounded Mac rumors. But one way or another, the titans of tech stand poised to transform the mobile business - on their own terms.
A shift afoot in telecom
Case in point: Google (Charts). Not only is the company about to launch cell-phone search ads in the United States early this year after testing the service in more than 10 countries, including Germany and Japan, but CEO Eric Schmidt predicted late last year that we would soon see free cell phones, with the cost of a service plan subsidized entirely by ads. In December it was reported that the search giant had already begun making its move - discussing plans for a Google-branded phone in secret meetings with U.K. provider Orange.
"The cell phone is becoming more of a utility device," says Deep Nishar, Google's director of product management. "Which means consumers will be more focused on services."
If we do start to see free cell phones, the business model may look a lot like that of SugarMama. The Virgin Mobile service provides 4 million users - mostly teenagers - with up to 75 minutes of free airtime a month if they watch ads and answer questions to prove they paid attention.
Since its launch in May, SugarMama has been used more than 2 million times, and it's gaining about 1,000 new users a day, according to Virgin Mobile spokeswoman Jayne Wallace. It has also attracted advertisers such as Pepsi (Charts), Sony (Charts) Pictures, and the U.S. Navy, which gives the small mobile operator a welcome stream of nonvoice revenue.
Indeed, the average voice revenue is dropping so fast - from $51 a month in 2000 to $43 a month last year - that advertising and premium data services may soon make up the bulk of wireless operators' revenues, further tipping the balance toward software companies.
"Once people start using phones for more data, other companies are likely to have more of a chance to get their services out there," says Charlene Li, an analyst with Forrester Research. Let the golden age of cell-phone innovation begin.