(Business 2.0 Magazine) -- Virtual mapping tools like Google Earth and Microsoft's Virtual Earth 3D are great for those who want to ogle their neighborhood - but they may soon turn out to be an even bigger boon for the advertising industry.
This spring Saturn is looking to roll out a nationwide version of an online ad for its new Aura sedan built on Google Earth technology. Web users don't have to download the mapping software; they just watch as the screen zooms all the way down from space into the nearest Saturn dealership - located by their IP address - where a salesman offers them a test-drive.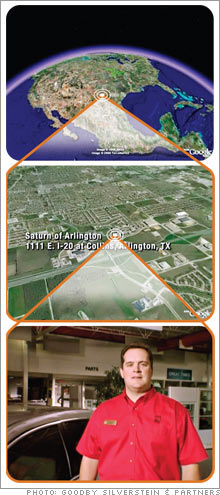 A beta version of the ad, targeted at just six U.S. cities, received millions of click-throughs, according to Gokul Rajaram, product management director for Google AdSense. (You can view this 3-d ad here.)
It also resulted in more than 1,000 requests for a test-drive - which prompted Saturn's ad agency, Goodby Silverstein & Partners, to start inventing campaigns for its other clients using Google Earth. "Every retail chain will eventually do this," says Jeff Goodby, co-founder of the San Francisco-based agency.
Microsof (Charts)t has already rolled out ads inside Virtual Earth 3D for major sponsors like Fox and Nissan (Charts). Users will soon be able to zoom through virtual versions of real cities with billboards advertising local hotels, restaurants, or day trips.
"Consumers who are using this are much more engaged with it than with a contextual ad they see while surfing the Internet," says Henry Hall, senior product manager for Virtual Earth 3D. "This is the wave of the ad future." Given Madison Avenue's crisis about engaging a younger, more tech-savvy audience, that wave can't come fast enough.
_______________________________
More from the latest issue of Business 2.0 Magazine:
101 Dumbest Moments in Business
A new Rx for the body: implantable devices
Cell-phone giants start courting coders

To send a letter to the editor about this story,
click here
.