NEW YORK (CNNMoney.com) -- The nation's manufacturing is growing again, according to the latest survey of executives in that sector by the Institute for Supply Management released Thursday.
The ISM manufacturing index came in at 52.3, up from the 49.3 rating in January. A reading above 50 indicates growth in the sector, while a reading below 50 points to contraction.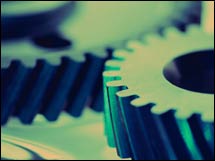 It was the best reading in the report since September.
Economists surveyed by Briefing.com had only forecast a rebound in the index back to 50.
The report was a great relief to U.S. stocks, which had been selling off early in the trading day. The Dow Jones industrial average bounced off its low of the day on the better than expected report.
"February proved to be a good month in the manufacturing sector as new orders, production and employment contributed to a solid growth scenario," said a statement from Norbert Ore, chair of the ISM's manufacturing business survey committee. "The inventories index showed significant reduction in manufacturers' inventories for the second consecutive month, and the backlog of orders index is growing once again."
The one area of concern in the report was a rise in the index that measures prices paid by manufacturers, as 32 percent now report paying higher prices, up from 24 percent reporting that in January.
But Ore said that concerns about the prices part of the index were minimal because of the small number of commodities that saw prices rise.
"The trend in manufacturing, as well as the overall economy, is for slow but continuing growth," he said.
The report has been bouncing back and forth across the 50 tipping point in the past several months, as it ended a 41-month stretch of growth in November, then rose back to 51.4 in December before retreating in January.