NEW YORK (CNNMoney.com) -- As car buyers in every market segment turn to smooth-riding, car-based, crossover SUVs, Jeep has a new hit on its hands. But it's not the small Compass on-roader.
It's the new four-door Wrangler Unlimited. And it is definitely not a crossover. The Wrangler is a serious, no-compromise piece of off-road machinery that can, if you want it to, run errands and take the kids to school, too. But it's not really designed for that.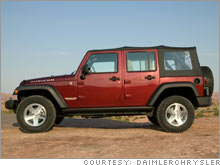 Crossovers ride smoothly, like cars. The Wrangler doesn't. Crossovers are quiet. The Wrangler isn't, especially on the highway. Crossovers don't have rollover cages, removable doors and windshields that can fold down and strap to the hood. The Wrangler does.
When Consumer Reports tested it, the Wrangler Unlimited earned a score of 17 out of a possible 100, the lowest score for any current model. The magazine also noted the Wrangler's "dismal fuel economy."
It did well in the Consumer Report's standardized rock-climbing test, however.
"Off-road capability remains extremely impressive," the magazine said in its April issue.
But while sales of other truck-based SUVs plummet, the Wrangler Unlimited is scrambling off dealer lots.
Days-to-turn, a measure of how long, on average, a vehicle sits unclaimed at dealership, is 20 for the Wrangler Unlimited, according to data from the Power Information Network. For the average vehicle overall, days-to-turn is well in excess of 60.
For DaimlerChrysler (Charts)'s Chrysler Group as a whole - that includes Chrysler, Dodge and Jeep brands - the Wrangler Unlimited's success is even more remarkable. The average days-to-turn for Chrysler Group vehicles is 106 days, according to the automotive Web site Edmunds.com.
Toyota (Charts)'s FJ Cruiser, another serious off-roader but with more attention to design, is nearly as successful in terms of days-to-turn, but it sells at half the volume of the Wrangler. Jeep sold 9,240 Wranglers of both the two- and four-door types in February, an increase of 63 percent over the same month in 2006.
Pricing also shows the four-door Wrangler's strength. In the six months since it was introduced, the average price paid for a Wrangler Unlimited has gone up, not down, according to the Power Information Network.
"It's very rare that the price of a new model goes up," said Tom Libby, an analyst with Power Information Network.
While it's common for a new or redesigned vehicle - the Wrangler Unlimited is something of both - to sell well in its first four months, said Libby, the Wrangler Unlimited continued to do well into its fifth and sixth months on the market, the sign of a vehicle that's really struck a chord in the marketplace.
"I think it shows the strength of the Wrangler name," said Libby.
The Wrangler (the name replaced "CJ" in 1986) is a direct descendant of the versatile World War II vehicles that gave the entire Jeep brand its name. Although Jeep has changed corporate hands a few times since VJ Day in 1945, it has stayed largely true to its core image as a maker of off-road vehicles.
Besides the Wrangler, other new Jeep offerings are hewing to overall market trends.
The large, truckish Jeep Commander is selling poorly, as are almost all larger truck-based SUVs. The small Compass, a car-based crossover that is not intended for off-road use - Even Jeep was finally forced to follow that market trend - had been doing well when it was first introduced last summer. It has cooled off already, however, and now sells about as well as most cars, according to Power Information Network data.
So far, Wrangler sales, which are strong overall, have trended two to one for the four-door Unlimited over the classic two-door version. And the two-door Wrangler has a days-to-turn figure of 36, a very low number but much longer than the four-door.
"Bringing that four-door out really brought in a whole new market," said John Plecha, director of marketing for Jeep.
Older buyers with families can now own a Wrangler, he said, whereas practical needs would have forced them into something else before.
It remains to be seen whether these new buyers will fit the mold of the traditional Wrangler customer. Unlike other SUV buyers, most Wrangler owners actually use their vehicles the way its engineers intended. Sixty percent take them off-road.
America's most admired car company
BMW's Hydrogen 7: Future or flop?
New Mariner Hybrid: Nice and green