NEW YORK (CNNMoney.com) -- Coke and Pepsi both saw their share of the soda market fall in 2006 for the second straight year, led by weak sales of Coke Classic and regular Pepsi, an industry report said Thursday.
Atlanta-based Coke, the world's biggest soft drink maker, saw its domestic market share dip to 42.9 percent last year from 43.1 percent in 2005 as total soft drink sales overall slipped 0.6 percent in the United States last year, industry publication Beverage Digest said in its annual look at the industry.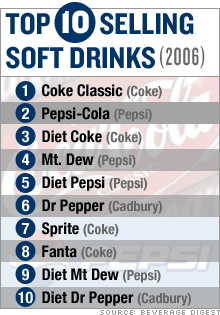 No. 2 PepsiCo saw its share fall to 31.2 percent from 31.4 percent a year earlier, the report said. Coke's total volume - a measure of cases of sold - fell 1.2 percent, while Pepsi's volume dropped 1.3 percent in the U.S.
But vitamin-infused energy drinks and bottled water showed strength as health-conscious consumers continued to switch to low-sugar and nonfizzy drinks. To that end, both Coke (Charts) and Pepsi (Charts) are now chasing that trend, with each company set to introduce a vitamin-fortified cola drink later this year.
According to Beverage Digest editor John Sicher, Coke's new product is called Diet Coke Plus and Pepsi's is Tava, a vitamin-enhanced zero-calorie line of soft drinks.
"This is a very smart move because it blends the interest of low-calorie drinkers with the ongoing trend toward health and wellness," said Sicher. "But it's still an experiment and certainly not a slam dunk for them."
Some critics say the new products may be better for you than soda but are not that much healthier.
Among their top-selling brands, Coke Classic was the No. 1 selling cola last year, but sales volume slipped 2 percent, while regular Pepsi-Cola, ranked No. 2, lost 2.5 percent, according to Beverage Digest.
Diet Coke's volume also slipped 0.1 percent, while Diet Pepsi's volume declined 1.0 percent in 2006.
At the same time, London-based Cadbury Schweppes (Charts), the industry's No. 3 player, slightly improved its market share, helped by a 1.7 percent increase in volume for Dr. Pepper and a 3 percent jump for 7 Up.
Together, the three companies - Coke, Pepsi and Cadbury - account for 90 percent of the industry's volume.
Charge takes fizz out of Coca-Cola's net profit
Coke's biggest bottler to cut 3,500 jobs
An energy drink with a Monster of a stock
Iran's cola war