NEW YORK (CNNMoney.com) -- Wall Streeters spent last week recovering from the previous week's battering. They'll spend the week ahead testing that recovery.
A mild session Friday capped off an otherwise strong week, in which stocks recovered one-fourth of what was lost in the previous week, when falling Chinese equities sent a slew of world markets lower on global growth worries.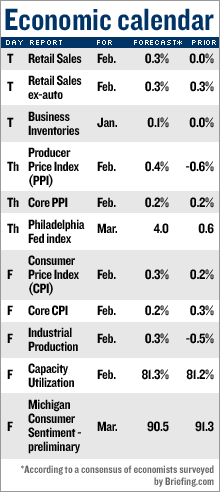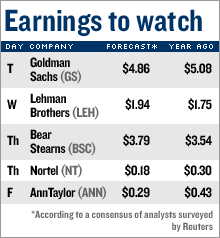 But Friday was more notable for bringing the release of the February jobs report, which seemed to support the Federal Reserve's outlook: namely, that growth is slowing at a moderate pace, and inflation is still a concern.
Bond investors didn't like that, with prices falling and corresponding yields rising on bets that now the Fed is even less likely to cut interest rates anytime soon.
That factor tripped up stock investors a little too. After all, lower interest rates lower the cost of borrowing, all of which is good for corporate profits and stock valuations.
Beyond the Fed implications, stock investors seemed to take some comfort in the fact that if the economy is holding up, then recession would seem to be off the table.
"All in all, it tempers pretty dramatically the previous week's worries about a global growth slowdown," said Dan Genter, president and CEO at RNC Genter Capital Management.
Next week could test that, when reports are due on retail sales, consumer prices and producer prices, as well as manufacturing and business inventories. (See chart for details).
"I wouldn't be surprised if more of the reports miss the consensus than beat it," said Scott Merritt, U.S. equity strategist at JP Morgan Asset Management. "I think we're just starting to see the full impact from the real estate slowdown."
That impact manifested itself last week in a further routing for some of the subprime mortgage lenders. In addition, the woes of the homebuilding sector were perhaps best articulated by the CEO of D.R. Horton (Charts), who predicted that "2007 is going to suck."
But the impact of this hasn't fully been reflected in the economic news or the stock market, Merritt said, and it may start to do so in the next few weeks.
In addition to the economic news, on Monday, Federal Reserve Governor Randall Kroszner is due to speak inflation dynamics at a policy conference in Virginia. On Wednesday, Treasury Secretary Henry Paulson is due to speak on the U.S. financial system at a conference he is hosting.
Although the week is light on earnings news, a few companies are expected to report quarterly results. They include Goldman Sachs (Charts), Lehman Brothers (Charts), Bear Stearns (Charts), Nortel (Charts) and AnnTaylor (Charts). (See chart for details).
But most first-quarter earnings reports won't be released for another month, perhaps allowing investors to get used to the idea that after lots of talk and no action over the last few years, earnings growth is actually going to slow this year.
Investors are also in the process of getting used to the idea that stocks are not likely to see the same blockbuster returns in 2007 as in 2006, Genter added.
That's because "if earnings growth is really going to decline this year, if GDP growth is slowing, if inflation is still an issue and if the Fed isn't going to cut rates, it's going to be hard to see the same kind of returns as last year."
---
Wall Street not holding breath for rate cut
More on investing