NEW YORK (CNNMoney.com) -- The latest Harry Potter book, "Harry Potter and the Deathly Hallows," will have a record-breaking 12 million copies printed in its first run, according to a release.
The print run tops the author J.K. Rowling's sixth and last book in the series "Harry Potter and the Half-Blood Prince," which was released on June 16, 2005 and had a printing of 10.8 million books. It sold 6.9 million copies in the first 24 hours, according to a release from Scholastic, the publisher.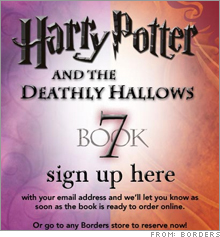 "Harry Potter and the Deathly Hallows," is due to be released on July 21. The book will also have a marketing campaign beginning April 17, in which publisher Scholastic will release one question every two weeks that fans will be encouraged to debate online and in book clubs, according to a release.
Author Rowling herself will possibly answering in the final installment, according to the release from the publisher. The questions will be posted on the published on Scholastic's (Charts) Web site as well as released through marketing and advertising efforts.
Additionally, a national bus tour, in a Knight Bus, based on the vehicle from the book series will depart from New York City and travel to 40 libraries and 10 cities nationwide. Fans will be encourage to visit the bus at its stops and share their feelings and thoughts about the Potter books on video, the release said.
The campaign launches April 17 and will continue through July 7.
All 6 Harry Potter books have been number one bestsellers in the United States, Britain, and around the world.
Scholastic competes with News Corporation (Charts) and The McGraw-Hill Companies, Inc (Charts).
-----------------------------------------------------
Last Harry Potter book already No. 1