NEW YORK (CNNMoney.com) -- It's hard out there for drug sales reps--particularly if they work in places where gaining access to doctors is becoming increasingly difficult.
Take Boston. Glenn Abrahamsen, senior director of global analytics for drug company Schering-Plough (up $0.14 to $25.56, Charts), says the city is full of medical groups with formal policies restricting the access that company reps have to individual doctors.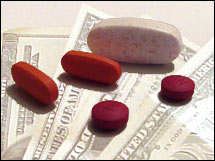 "We weren't allowed to leave samples: not tissue boxes or anything," said Abrahamsen, speaking at iiBig conference in Atlantic City, N.J. late last month "We weren't allowed past the receptionist."
Such "closed door" policies are now common around the country, especially in Washington, Minnesota and Wisconsin, according to anecdotal evidence from drug sales reps and medical groups.
The backlash--fueled in part by double-digit increases in advertising spending by Big Pharma--is turning the industry on its head. Sales reps are facing massive layoffs and falling incomes as commissions drop. Drug companies, meanwhile, are scrambling to come up with new ways to get their medications in front of the doctors who would prescribe them.
In one sign of the dislocation, Pfizer is in the process of laying off 2,200 sales reps, or about one-fifth of its U.S. sales force. Industry watchers expect rival companies will soon follow with cutbacks of their own.
Anyone who's been to the doctor has seen it: the smiling drug rep stops by to drop off some free samples and inquire about a meeting with the doctor. Such grass-roots tactics have long been big drivers of Big Pharma revenues.
Increasingly, however, doctors are slamming the door on such visits. Doctors who work in group practices don't have the freedom they once did to listen to sales pitches: They have to adhere to company policy, which nowadays can bar sales reps from doctors' offices. Compounding the problem for sales reps are managed care policies that favor low-cost generics over reps' name-brand drugs.
Abrahamsen of Schering-Plough estimated that 7 percent of doctors nationwide now refuse to meet directly with drug sales reps. In some regions, like Wisconsin, that number can shoot as high as 50 percent.
In Seattle, some of the biggest Puget Sound medical groups now have closed-door policies, including Virginia Mason Medical Center, Everett Clinic, Polyclinic and Group Health.
"It's not easy being a rep in Seattle," lamented an anonymous sales rep on a message board at the website Cafepharma. Echoed another: "You will need to work twice as hard in the Seattle market in order to succeed."
Group Health spokesman Kirk Williamson said his organization has enforced a closed door policy for five years and that it keeps a well-researched formulary, or list, of drugs that its 1,000 physicians are permitted to prescribe.
"We have a stringent practice of reviewing literature and scientific evidence on new drugs that come into the market," said Williamson. "This gives us better results for our patients. We, for example, never put Vioxx on the formulary."
Jennifer Norton Wilson, clinical pharmacist for Everett Clinic, said the 250-physician group instituted a closed-door policy against drug reps in 1998 out of concern for the increasingly aggressive tactics that drug sales reps were using.
"We were very aware that the pharma companies were pushing newer products," said Norton Wilson. "In the long run, we decided that it would be better for our practice if we had less biased individuals providing information."
Even outside these closed-door markets, the landscape nationwide is getting considerably more difficult for reps--in part because questionable methods of courting doctors have damaged their reputation.
"The drug companies have been coming under a lot of criticism in recent years, and this is one of the areas that is seen as egregious and close to corrupt," said Fran Hawthorne, author of "The Merck Druggernaut," which describes drug sales freebies ranging from free pens and donuts to four-star dinners and vacation-style trips.
"The drug companies have been increasing the number of reps, and what you had was a number of drug reps from the same company calling the same doctor on the same day," continued Hawthorne. "That's just overkill. The drug companies, to a certain sense, hurt themselves."
Now, Big Pharma is culling reps. When Pfizer announced in November plans to lay off a chunk of its sales force, Pfizer (up $0.33 to $25.67, Charts) chief executive Jeffrey Kindler said it was more effective for a sales rep to spend 30 minutes meeting with a doctor every couple weeks than to make more frequent, but brief, visits to the office to drop off samples.
Kindler did not explain how the rep would win this coveted half-hour with the doctor. But Joseph Tooley, analyst for A.G. Edwards & Sons, said the best way for a rep to get a doctor's attention is to have a new product that's demonstrated, through credible clinical tests, to have an edge over its rivals.
The happiest reps these days are the ones with such promising drugs to pitch, said Tooley. For instance, reps hawking the anti-cholesterol combo drug Vytorin for partners Merck (Charts) and Schering-Plough (up $0.14 to $25.56, Charts) show up armed with test results showing Vytorin's competitive edge against Pfizer's Lipitor and AstraZeneca's (up $0.07 to $53.77, Charts) Crestor. Vytorin, introduced in 2004, is a $2 billion a year blockbuster.
"It's always easier to sell if you have a good product," added Tooley. "Reps that are happy are those that are selling better products."
Tooley does not own shares of Merck of Schering stock and A.G. Edwards does not conduct business them.
Pfizer: Once and future(?) king?
Drug stocks