(Business 2.0 Magazine) -- Green roofs aren't the future: They're already here. In Chicago, 2.5 million square feet of downtown roof space is now covered with hardy plants such as sedum and prairie grass--the better to lower heating and air-conditioning costs (by 10 percent or more) and dramatically reduce rainwater runoff.
The Windy City's rooftops aren't alone: The total square footage of green roofs in the United States is growing at the healthy rate of 125 percent a year.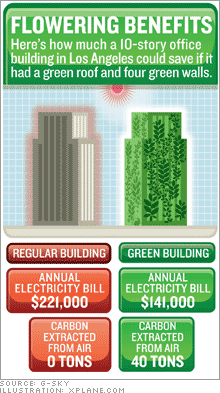 Now some entrepreneurs are placing bets on something even more forward-thinking: green walls. "They're taking off way faster than green roofs," says Chad Sichello, president and CEO of G-Sky, a Vancouver, British Columbia, company that offers both.
Starting at $100 per square foot, G-Sky will install plant-filled wall panels that can go on any vertical surface--meaning G-Sky just quintupled its opportunity. After all, "for every roof out there, there are four walls," says Steven Peck, founder of the Toronto- based industry association Green Roofs for Healthy Cities, who says he expects the vertical greenery market to be "huge."
Green walls can provide as much bill-saving insulation as green roofs, but put less load-bearing strain on the building. Whole Foods (Charts), Vancouver International Airport, and the W Hotels (Charts) chain are early G-Sky clients.
And that's just the start. G-Sky is looking long-term, to a world where carbon-trading is king and companies are eager to offset their greenhouse gas emissions. What better way to do that than to cover your building with greenery?
"Even in small plants, there's a very easy calculation for how much carbon they offset," Sichello says.
Green walls can also help offset the newly identified urban heat island effect: All the heat-absorbing surfaces in a city raise its temperature to as much as 8 degrees higher than that of the surrounding countryside. Peck says no North American city will have enough green roofs and walls to combat this effect before 2027--not even Chicago.
It's time for entrepreneurs to find their green thumbs: There's a lot of growing to do.
More from Business 2.0:
Power play: How to live rich, retire richer
Silicon Valley bets big on the sun
Green Wombat: The environment and technology blog

To send a letter to the editor about this story,
click here
.