NEW YORK (CNNMoney.com) -- Department store chain J.C. Penney announced Wednesday that the company will be opening its first-ever location in Manhattan.
"New York City is the most vibrant shopping city in the world and we are very excited about this opportunity to be in the fashion capital of the world," Michael Dastugue, director of property development for J.C. Penney said during day two of the company's two-day annual analysts' meeting in Fort Worth, Texas.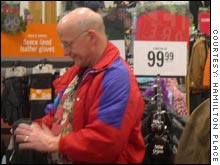 Dastugue said the approximately 150,000 square foot store would be located in the Manhattan Mall in mid-town Manhattan.
"The idea is for Penney to be the centerpiece of the mall," he said. However, Dastugue did not indicate when the store would open.
Penney already operated 4 other locations in New York City's other boroughs.
During the call, Dastugue said Penney would add 50 new stores annually from 2007 through 2011, bringing Penney (Charts)'s total store base in the United States to 1,200 by the end of 2011.
"That's a 100 more stores that we had announced last year," Dastugue said.
The company also boosted its first-quarter profit guidance to $1.02 a share from 99 cents a share with no changes to guidance for the remaining three quarters of the year.
Analysts, on average, expect the retailer to earn $1.02 a share for the first quarter and $5.48 a share on sales of $20.7 billion for the full year, according to First Call.
Penney said it expects a compound growth rate of 8 percent in sales from 2008 through 2011 and a 16 percent compound annual growth rate in profits over the same period.
Penney, which competes in the mid-price arena with Sears (Charts), Federated (Charts)'s Macy's stores and Kohl's (Charts) has become the comeback kid of the department store retailing.
The retailer has posted increases in sales at stores open at least a year - a key measure of retail performance known as same-store sales - for most of last year, averaging a same-store sales growth of 3.9 percent in 2006.
Investors have rewarded Penney's performance by pushing its stock up 38 percent over the past 12 months.
Industry watchers credit Penney with significantly improving its merchandise mix by adding more fashionable private-label, exclusive brands and introducing affordable designer labels for the masses such as "Nicole" by Nicole Miller.