NEW YORK (CNNMoney.com) -- Strong earnings from a slew of big-name stocks including Apple, 3M and ExxonMobil look set to push stocks higher Thursday, building on the previous session's record high for the Dow.
S&P futures extended gains while Nasdaq futures jumped early Thursday, pointing to a higher start for Wall Street.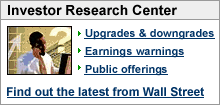 Apple's profit soared in the latest quarter thanks to strong sales of its iPods and Macintosh computers. Shares of Apple (Charts, Fortune 500) jumped about 6 percent in after-hours trading.
In other earnings news, ExxonMobil (Charts, Fortune 500) on Thursday reported first-quarter earnings of $9.3 billion, or $1.62 a share, topping Wall Street forecasts.
Diversified manufacturer 3M (Charts, Fortune 500), maker of Scotch tape, Post-it notes and other products, Thursday reported first-quarter earnings and revenue that beat analysts' forecasts, sending its shares higher in pre-market trading.
Ford Motor (Charts, Fortune 500) lost less money than expected in the first quarter, and the troubled automaker said Thursday that it is making progress in its turnaround plans but still faces many uncertainties.
And drugmaker Bristol-Myers Squibb (Charts, Fortune 500) reported a slide in first-quarter profit and sales Thursday, and named acting CEO James Cornelius its permanent chief executive.
Additionally, tech heavyweight Microsoft (Charts, Fortune 500) is expected to report its quarterly results after the close.
Earnings are due from three Dow components Thursday, a day after the Dow jumped above 13,000 for the first time, rising about 1 percent.
In commodities trading, oil fell in early trading. U.S. light crude lost 52 cents to $65.32 a barrel in electronic trading.
Treasury prices were little changed, leaving the yield on the 10-year note near 4.65 percent.
The dollar rose against the euro and the yen as selling fatigue set in a day after the Dow Jones index of 30 blue chips jumped above 13,000 for the first time, rising about 1 percent.
Markets in Asia all closed higher. But Nissan Motor (Charts) pushed back a sales goal by a year after posting its first earnings decline since CEO Carlos Ghosn took the helm in 1999.
Shares in Europe rose in early trading.
Dutch bank ABN Amro (Charts) said it will open its books to a rival group of bidders led by Royal Bank of Scotland, which Wednesday made a $98 billion bid for the bank that topped the $91 billion bid ABN had previously accepted from Barclays (Charts).
The bidding war could also upset the $21 billion deal that Bank of America (Charts, Fortune 500) had reached to buy ABN's Chicago-based unit, LaSalle Bank.
Dow Chemical, (Charts, Fortune 500) the nation's largest chemical company, reported lower earnings that met forecasts Thursday morning, and also lifted its dividend by 12 percent.
In other corporate news, federal prosecutors are reviewing stock option grants at BlackBerry maker Research In Motion (Charts), the company announced late Wednesday. The company also announced that co-CEO Jim Balsillie would give up his other role as the company's chairman.
An influential proxy advisory firm recommended Wednesday that Motorola (Charts, Fortune 500) shareholders elect activist investor Carl Icahn to the board, although another proxy advisory firm recommended refusing the billionaire financier a seat.
Fast-food chain Wendy's International (Charts), which has already shed two of its chains in a turnaround effort, said Wednesday it is reviewing strategic options, including a possible sale of the company. The after-hours announcement sent the stock, which has been lagging, soaring 13 percent in extended trading.
Pulte Homes (Charts, Fortune 500), the No. 4 U.S. home builder, became the latest firm in the battered sector to post a loss Wednesday, though it was lower than Wall Street forecasts.