(FSB Magazine) -- Produce TV spot pairing beautiful woman with beer-swilling schmo. Have schmo ditch woman for cold beer. Presto! Instant (and yawningly typical) beer marketing campaign. "In general the beer industry doesn't get too clever," says Harry Schuhmacher, publisher of Beer Business Daily (beernet.com), an online trade journal. Indeed, the U.S. beer industry has been flat, shipping 181 million barrels of brew in 2006, virtually the same as a decade ago.
The New England Brewing Co. (newenglandbrewing.com) is that rare exception to the rule. Rob Leonard, 38, bought the firm in 2001, when it was nearly defunct. This year he'll sell $300,000 worth of beer, mostly to bars, restaurants and retailers in his home state.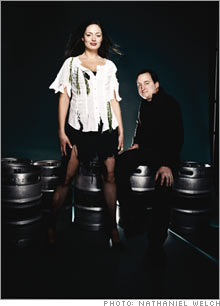 Leonard has five employees at his brewery in Woodbridge, Conn., including his mother (who does the books for free) and two senior-citizen volunteers he compensates with free lunches and beer.
Leonard's company is tiny - one of 1,337 microbreweries operating in the U.S. as of 2006, up from 1,058 in 1996. But when he launched his new Sea Hag India Pale Ale last summer, he embraced the kinds of guerrilla new-media techniques that tend to be overlooked by his beer industry peers. "I wanted to get noticed," says Leonard, "and I needed to find a way to stand out from all the clutter."
Leonard turned to Heavybag Media (heavybagmedia.com), a ten-employee New Haven shop that specializes in novel Web-based marketing campaigns. Heavybag dreamed up a full-fledged mythology featuring a maritime witch called the Sea Hag.
The legend is utterly fake but seems old and authentic, thanks to such New England yarn-spinning staples as a lonely sea captain's wife, a nor'easter and a watery death. (For more on "The Invention of Tradition" check out the excellent 1983 book of that title by Eric Hobsbawm and Terence Ranger.)
The agency created a blog (seahag.wordpress.com) to perpetrate the legend. It's run by a fictional grad student named Susan Anderson, whose Sea Hag obsession has ostensibly led her to collect different versions of the tale. E-mails sent to the blog are received by Heavybag, which answers them in Anderson's voice. Heavybag also crafted a sham Sea Hag entry for Wikipedia. A sample: "Sailing ships coming in and out of New Haven have reported sightings of a young, beautiful woman sitting on rocks." (Other Wiki users have yet to blow the whistle on the posting.)
Heavybag also distributed fliers around New Haven, featuring handwritten messages ("This is creepy!") along with a phone number (203-777-3317). Call the number and you hear a scratchy recording of a distress call from a boat pilot: "This woman is out here in the middle of the ocean, and she's on a rock!"
None of the messages link sea hags explicitly with the brewery's pale ale. That's deliberate. The idea is to create a general sense of both awareness and mystery. Some consumers might try Sea Hag ale and become curious about the legend. Others might first be exposed to the Sea Hag legend and then notice that there's a new beer of that name.
Heavybag ups the intrigue through promotional materials that it places in area bars. For example, the agency has distributed stacks of fill-in-the-blank Sea Hag legends. Beer drinkers can furnish their own nouns and adjectives, kind of like those old Mad Libs. The aim is to offer a party game in a bar setting - and to keep building that Sea Hag mystery. "People expect more from marketing messages nowadays," says Jackie Peters, Heavybag's chief creative officer. "We're trying to get people involved in - and interacting with - the brand."
Sea Hag is a year old, but already accounts for half of the New England Brewing Co.'s total sales. (The rest comes from two other brands, Atlantic Amber and Elm City Lager.) Leonard turned his first profit in 2006. Until then he ran the brewery without a salary, supported in part by his wife, who works as a waitress in an Italian restaurant. Those lean days are gone, Leonard reports happily: "I'm finally collecting my first paycheck!"

click here
.