NEW YORK (CNNMoney.com) -- Wall Street looked to make a comeback Friday as a report on producer prices suggested that inflation is moderating.
A report on retail sales showed no growth in April, missing expectations.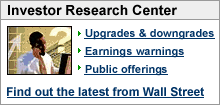 Stock futures, which predict the direction of stocks at the open, pointed higher after the reports came out.
Wholesale prices minus food and energy stayed in check for the second straight month in April, showing inflation pressures less than Wall Street's expectations.
Retail sales fell 0.2 percent, compared with expectations of a 0.4 percent increase, after a 0.7 percent gain in March.
Major retailers reported disappointing April sales, with overall sales at stores open at least a year falling a record 1.8 percent and No. 1 retailer Wal-Mart Stores (Charts, Fortune 500) reporting its weakest sales comparison on record. Those weak sales helped cause a sell-off in U.S. stocks Thursday.
Automakers also reported generally weak April sales. Excluding spending on autos, retail sales are forecast to be up 0.5 percent, down from a 0.8 percent gain in March.
At 10 a.m. there will also be a report on business inventories in March.
Economists and investors will also weigh statements by former Federal Reserve Chairman Alan Greenspan in a speech Friday. Greenspan sees a one-third chance of a U.S. recession later this year.
In another sign of retail weakness, athletic shoe retailer Foot Locker (Charts, Fortune 500) slashed its first-quarter earnings outlook Thursday, citing its weak sales comparisons and markdowns at its U.S. stores. Shares fell nearly 10 percent in extended trading.
The Chicago Mercantile Exchange (Charts) upped its offer for crosstown rival CBOT (Charts) Holdings by 16 percent Friday and added cash to what had been an all-stock offer, prompting CBOT to again endorse the combination with the Chicago Merc rather than an unsolicited offer from the IntercontinentalExchange (Charts).
In other corporate news, SLM Corp. (Charts, Fortune 500), the student loan provider better known as Sallie Mae, revealed Thursday afternoon that regulators are inquiring into trading of its stock before its April 16 announcement that it would be acquired for $25.2 billion.
Apple (Charts, Fortune 500) CEO Steve Jobs defended the company's record on stock option grants at the company's annual meeting Thursday, telling shareholders that the fact that the Securities and Exchange Commission found no wrongdoing by him or current management should put the matter to rest.
Markets in Asia closed mostly lower on concerns of slowing U.S. sales. Major indexes in Europe also were lower in early trading.
Oil prices rose in early trading. U.S. light crude gained 46 cents to $62.27 a barrel in electronic trading.
Treasury prices were higher, taking the yield on the 10-year note to 4.62 percent from the 4.64 percent level reached late Thursday. The dollar was lower against the yen and little changed on the euro.