(Business 2.0 Magazine) -- Business travel has gone Web 2.0. Frequent fliers can now build their Rolodexes electronically by searching for other travelers' profiles and then arranging to meet contacts on a flight, at a golf course, or over dinner. Here's a look at a new breed of sites aiming to make every part of your next trip a chance to enlarge and enrich your web of business contacts.
PAIRUP www.pairup.com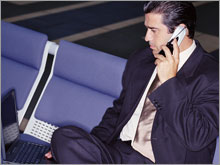 Start networking as soon as you know your itinerary. Simply upload the contents of your Outlook address book and post your flight info and any trade shows or conferences you'll be attending. PairUp will notify you by e-mail or desktop widget when it finds a colleague or client heading for the same place. You'll also receive alerts when your contacts are headed your way, and you can let your plans be seen by fellow professionals you don't even know - yet.
Pros: Multiple ways to share your travel information. Notify just your boss, everyone in your company, all your Outlook contacts, or even all PairUp users in your industry.
Cons: Still in its infancy and needs more members, but the concept is clearly catching on. Founder Esteban Sardera says he is in talks to partner with conferences and trade shows so regular attendees can join the network.
AIRTRODUCTIONS www.airtroductions.com
Guarantee that your seatmate is a fellow business traveler, not a screaming child. Create a profile on the site, enter your itinerary, and search for network members headed the same way. Contacting fellow travelers costs $5 per round trip. The site boasts more than 21,000 users, and founder Peter Shankman says 4,000 matches have been made, including an IT consultant who landed a contract with an international oil and gas firm.
Pros: You're probably better at picking seatmates than an airline is.
Cons: An airplane seat is an awfully small space if you end up next to a shameless job seeker or someone whose interests are more physical than professional.
FLYING BLUE GOLF CLUB www.fbgolfclub.com
Networking on the golf course has new meaning, thanks to this online golf club for frequent travelers launched last August by Air France and KLM. For 55 euros a year (about $73), members can search for fellow golfers by location and handicap and organize a round. Buy from the online pro shop and get discounted greens fees and more frequent-flier miles. Also check out klmclubchina.com and klmclubafrica.com, new social-networking sites for entrepreneurs doing business in those locations.
Pros: Invitations to Flying Blue Golf Club tournaments.
Cons: You and your contacts must be KLM frequent fliers.
DINNERPOINT www.dinnerpoint.com
Tired of dining alone on the road? Dinnerpoint will link you up with like-minded travelers for a meal and conversation. The company arranges social-networking dinners at restaurants around the world for groups of four to eight people. After you register for a meal at your destination, Dinnerpoint makes the reservation and sends you the profiles of your fellow diners. Log on at the site afterward to keep in touch with new contacts or flag those you don't like as "bad company."
Pros: If there isn't a dinner in your city, you can plan one.
Cons: Members pay a $15 fee per dinner on top of the meal price. [BOX]
For more WHAT'S COOL on your mobile device, go to CNNMoney.mobi.

To send a letter to the editor about this story,
click here
.