NEW YORK (CNNMoney.com) -- Congress passed the first increase in the federal minimum wage since 1997 late Thursday as part of the measure for supplemental funds to fight the war in Iraq.
The minimum wage bill, bundled together with other domestic spending on an amendment separate from the war supplemental budget, passed by a 348 to 73 in the House.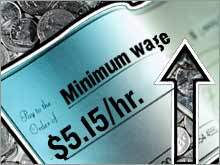 The total measure, including both war and domestic spending, passed the Senate soon after on an 80 to 14 vote.
President Bush is expected to sign the measure, perhaps as soon as Friday.
The minimum wage portion of the legislation provides for a increase - over a two-year period - to $7.25 an hour from the current $5.15. The last time lawmakers increased the federal minimum wage was in 1997.
A minimum wage hike would directly affect 5.6 million workers currently earning less than $7.25 an hour, according to the labor-backed Economic Policy Institute.
The hike also could increase the wages of another 7.4 million workers who earn just above the current federal minimum, the group said.
"The minimum wage has been stuck at $5.15 an hour for more than 10 years, but now - finally - Americans across the country will get the raise they need and deserve," Sen. Edward Kennedy, D-Mass., a leading proponent of the increase, said in a statement.
"Certainly, the increase we've passed today is only the first of many steps we must take to address the problems of poverty and inequality," Kennedy said.
Sen. Charles Grassley, R-Iowa complained on the Senate floor that the size of the tax breaks favored the smaller House deal "in number and composition of the package."
The inclusion of small business tax break are a condition for Senate Republicans and President Bush's support of a minimum wage bill.
"It is a missed opportunity," he said. "We could have provided small businesses with meaningful tax relief that is contemporaneous with the effects of the minimum wage hike."
Currently, 28 states and Washington, D.C., have a higher minimum wage. A number of those states have indexed their minimum wage to inflation.
The increase - a promise made by Democrats when they won control of Congress last fall - came after a five-month odyssey that included parliamentary differences between the majorities in both chambers, differences over the size of tax breaks for small business, and a debate about the future of the Iraq war.
The increase was part of the original Iraq supplemental measure passed by Congress last month, but vetoed by Bush because it contained timelines for troop withdrawals. The new measure does not contain timelines.
The Senate Finance Committee had originally proposed small business tax breaks of $12 billion while the House approved a much smaller $1.3 billion package.
A deal was finally brokered between House and Senate Democrats, giving $4.8 billion in tax breaks for small business.