(FSB) -- Hiring productive people is crucial for businesses of any size, but in the case of startups it's especially vital - and tricky. With limited resources, small businesses can't afford to have employees who don't perform. What's more, they need to find individuals who are not only talented, but also willing to wear a lot of hats and work in an atmosphere of risk.
These steps should help you find the right candidates - and make the best choices.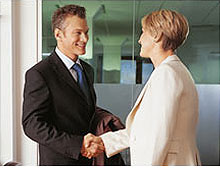 Make sure the time is right. Bringing an employee on board is an expensive proposition. For that reason, before you start the process, you should determine that you really do need to hire.
Fact is, especially in the early stages, it might be better for you to handle multiple jobs on your own. By doing so, "you learn a lot about what the business needs, what customers want, and the sales process," says Dharmesh Shah, co-founder and chief technology officer of HubSpot, a Cambridge, Mass.-based startup that sells an Internet marketing platform.
How can you tell whether you need to hire? If you can't fill all the orders coming in, or you're losing customers, missing orders, or staying up at night worrying about all the work you have to do, it's a good bet it's time to bring someone in.
Look in the most efficient places. Businesses often start searching for candidates by listing their positions on such sites as Craigslist.org or Monster.com. But many small-business experts say that's not a wise use of your time. The reason: You're likely to be deluged with responses and "you'll spend hours sorting through a lot of candidates," says Dennis Ceru, adjunct professor of entrepreneurship at Babson College.
Another route, often used by big businesses, is to tap employment agencies and headhunters. For newbies, however, that can be prohibitively expensive.
Probably the most effective tack is to go through your network of contacts or tap former colleagues. Shah, who started two other companies previously, makes a point of staying in touch with other small-business CEOs in the area; that helps when it comes time to hire.
You can also turn to the Internet to rev up your networking. For example, try sites like LinkedIn, a social networking site used primarily for making professional connections that has more than 9 million users in 150 industries. You can also tap into blogs and networks aimed at specific industries or, in some cases, at former employees of certain companies.
Be smart about how you review potential hires. Once you find promising candidates, you have to determine which one gets the job offer. Of course, you want people with the right skills, but that's not everything.
"Skills can be acquired over time," says Shah. "Talent can't."
Shah prefers to hire people with clear potential, even if they're not yet completely proficient at a particular set of tasks.
Since you'll be working together closely, personality and chemistry are as important as skill level. For that reason, you should conduct more than one interview - perhaps as many as three or four. You're more likely to get to know the real person if you hold some in a more informal setting outside the office, perhaps at a lunch or dinner.
If possible, set up a trial run, bringing candidates in to work for anywhere from a week to a few months, to see how they fit in and perform, preferably under your more challenging conditions.
Offer the right compensation package. As a startup, you probably can't match the salaries and benefits offered by bigger companies. You could, however, offer stock options as many high-tech firms do, and bonuses based on the company's success.
You also can take advantage of your startup status to give perks another firm might not.
"You can offer plenty of room to grow," says Ellen Rudnick, executive director and clinical professor of entrepreneurship at the University of Chicago's Michael P. Polsky Center for Entrepreneurship. "For the right person, that's a big incentive."
Or you might allow for extra flexibility, letting someone work from home most of the time, say, or take a lot of time off.
If you know enough about the candidate, you might also come up with more creative, targeted draws. Andrew Field, CEO of PrintingForLess.com, a Livingston, Mont., print shop, once heard about a talented pre-press specialist in the area and decided he wanted to hire him. He also learned that the person had a long, arduous work commute over an often snow-covered mountain, while Field's office was much closer. Field made a point of emphasizing his office's location during their meetings. The strategy worked. The pre-press specialist joined the company and stayed for 10 years, until he retired recently.
Understand the law. When you know you're going to start hiring, you should consult with an attorney familiar with small-business issues as well as employment laws in your state. You'll also need to produce an employee handbook. It doesn't have to be elaborate, but you should run it by your lawyer.
Remember: While the right hire can help boost company productivity considerably, the wrong legal move could cost you a fortune, and enough of the wrong hires could just cost you your business.

click here
.