NEW YORK (CNNMoney.com) -- Nickelodeon, hotel firm Marriott and property developer Miller Global Thursday announced a joint venture to create Nickelodeon-themed waterpark resorts aimed at vacationing families.
The companies plan to have 20 waterpark resorts called "Nickelodeon Resorts by Marriott" in operation by 2020 in the U.S., Europe, Asia, Mexico and Australia, said Marriott CEO and chairman J. W. Marriott, at a press conference in New York.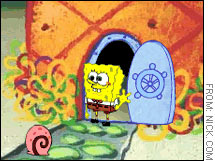 The first resort, to be built in a former naval yard, Liberty Station in San Diego, will be an upscale resort with 650 rooms.
MTV Networks CEO Judy McGrath said the resorts represented Nickelodeon's desire "to be everywhere where kids and families want us to be."
Media channel Nickelodeon, whose programs include SpongeBob SquarePants and Zoey 101, is owned by Viacom (up $0.46 to $44.99, Charts)-owned MTV Networks. Marriott (Charts, Fortune 500) operates about 2,700 hotels in 65 countries. Miller Global Properties owns 80 properties in the U.S. and Europe including 3,300 hotels.