NEW YORK (CNNMoney.com) -- Stocks were poised to slide Friday as investors returned their focus to a backup in Treasury yields.
At 6 a.m. ET, futures were lower, pointing to a negative opening for Wall Street. Stocks rebounded Thursday, helped by lower oil prices and a strong manufacturing report. But with no major economic reports due Friday, worries about rising bond yields are likely to dampen sentiment.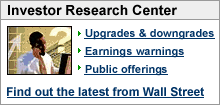 Treasury prices were flat in early trading, leaving the yield on the 10-year note near the 5.18 percent level reached late Thursday.
European shares opened mixed. Markets in Asia ended mostly lower, although Hong Kong shares rallied. The dollar was lower against the euro but higher versus the yen in early trading.
BP (Charts) facing pressure from the Kremlin, is close to a deal that would give up its holdings in a $20 billion Russian natural-gas project to state-controlled gas monopoly OAO Gazprom, according to a report in the Wall Street Journal. Shares of BP slipped 0.5 percent in early London trading following the report.
Oil prices were lower in early trading, even as talks failed between the Nigerian government and labor union officials aimed at ending a general strike in that continent's largest oil exporter. U.S. light crude lost 40 cents to $68.25 a barrel in electronic trading.
In major corporate news, private equity powerhouse Blackstone Group (Charts) is set to make its market debut on the New York Stock Exchange under the symbol "BX."
Blackstone priced 133.33 million shares at $31 a share Thursday to raise $4.13 billion. If underwriters exercise an option to to buy an additional 20 million shares, the total offering would be boosted to $4.75 billion, making it the largest U.S. IPO in five years and the sixth largest ever.
Standard & Poor's announced three companies that are being spun off from Fortune 500 companies would join that benchmark index, displacing three other companies. Two of the spinoffs wil come from conglomerate Tyco (Charts) - Covidien, its maker of medical devices and supplies and electronics, while credit card issuer Discover Financial will be spun off of Morgan Stanley (Charts, Fortune 500).
The late-day announcement hit the stocks of the three companies that will be dropped from the index, Sanmina-SCI (Charts, Fortune 500), PMC-Sierra (Charts) and ADC Telecommunications (Charts), which all saw their their shares fall in Thursday after-hours trading.
NYSE Euronext (Charts) has submitted a rival bid for Italian stock exchange Borsa Italiana, as it tried to edge out the London Stock Exchange, according to a report in the Wall Street Journal.