NEW YORK (CNN) -- For the second time this year, toymaker Hasbro has issued a recall for about 1 million Easy-Bake Ovens after receiving complaints that young children were getting their hands or fingers stuck in the oven's opening, causing serious burns.
The U.S. Consumer Product Safety Commission and Hasbro received about 249 complaints of children getting their hands stuck, 77 of them reporting burns.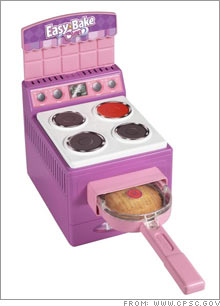 One 5-year-old child sustained burns so severe that part of her finger had to be amputated.
In a written statement sent to CNN, Hasbro spokesman Wayne Charness said, "We are voluntarily recalling this oven because of the potential for entrapment or burns and we want to make sure that the ovens are immediately taken away from children and returned to us."
Hasbro said it has been the target of litigation in this case but would not disclose any details or offer comment. Hasbro also refused to comment on whether it has any compensation plans for those who were injured by the toy.
In February, Hasbro and CPSC recalled just under 1 million Easy-Bake units over the same concerns. At that time, the CPSC said it had received 29 reports of children getting their hands or fingers caught in the oven's opening, including five reports of burns in Missouri, Arizona, Michigan and Minnesota.
Hasbro (Charts) added a safety grate to the model after the February recall, but it contacted the CPSC later in the year after receiving more injury reports and learning about the partial amputation.
The new recall includes all units with the retrofit grate.
The Easy-Bake Oven model being recalled is made of purple and pink plastic and resembles a kitchen range with four burners on top and a front-loading oven. "Easy Bake" is printed on the front of the oven, and model number 65805 and "Hasbro" are stamped into the plastic on the back.
The recall affects Easy-Bake Ovens sold between May 2006 and July 2007.
The electric toy, which is manufactured in China, is available for sale at Toys "R" Us, Wal-Mart (Charts, Fortune 500), Target (Charts, Fortune 500), KB Toys and other retailers nationwide for about $25. The CPSP does not recommended Easy-Bake Oven for children under 8 years of age.
Consumers who contact Hasbro will get a pre-paid container to ship the Easy-Bake Oven back to the company and will receive a $32 voucher good for other Hasbro products.
Easy-Bake Ovens have been one of the most popular children's toys since they were first put on the market in 1963. Since then, Hasbro estimates it has sold over 25 million units. While there have been many versions of the Easy-Bake Oven, the model affected by this recall was the first one that uses a heating element rather than a light bulb as a cooking element.