NEW YORK (CNNMoney.com) -- A tidal wave of worry about housing and credit markets swept over Wall Street Thursday, sending the Dow industrials tumbling 311 points in its second-biggest point loss of the year.
"Uncertainty is not what the market likes," said Todd Clark, director of stock trading at Nollenberger Capital Partners Inc. in San Francisco. "Sell first and find out later - that's pretty much what happened today."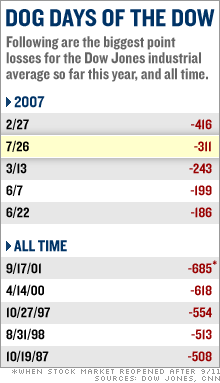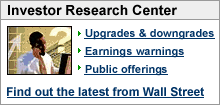 The 30-share Dow (down 311.50 to 13,473.57, Charts) plunged nearly 450 points earlier in the session before moving off its lows and closing down about 2.3 percent. The Dow sank 416 points on Feb. 27 on worries about slowing global growth.
The broader S&P 500 (down 35.43 to 1,482.66, Charts) tumbled 2.3 percent while the tech-laden Nasdaq (down 48.83 to 2,599.34, Charts) fell 1.8 percent.
The uncertainty that unnerved investors Thursday came mainly on two fronts: tougher times for the credit markets and another barrage of bad news for housing.
Tighter credit is troubling to investors for two reasons. It's likely to slow the buyout boom that's helped prop up stock prices. And it could raise the cost of borrowing for companies, hurting corporate earnings.
To date, there have been roughly 20 buyout-related debt deals that have been postponed as credit markets have tightened.
"The loan market is in a deep correction and investors are forcing deals to be reconstructed," said Faris Kahn, editor at Reuters Loan Pricing Corp., which tracks debt and loan markets.
Credit market fears also sparked a selloff Tuesday, when the Dow sank 226 points. This week's declines come about a week after the Dow hit another record, closing above 14,000 for the first time last Thursday.
More disappointing news from the housing sector also pressured stocks Thursday. Homebuilders including D.R. Horton (down $0.32 to $17.16, Charts, Fortune 500) and Pulte Homes (down $0.63 to $20.04, Charts, Fortune 500), the nation's No. 2 and No. 3 builders, posted huge losses. And a bigger-than expected drop in new home sales in June added to those woes. The Commerce Department reported new home sales tumbled 6.6 percent.
A jump in the price of oil above $77 a barrel helped spark the selloff, although crude prices finished lower with U.S. light crude for September down 93 cents to $74.95 a barrel.
"That was a big reversal, taking away one of the legs away from the stool of the selloff," said Clark.
Overall, the earnings news investors considered Thursday was mixed.
Dow component Exxon Mobil (down $4.56 to $88.23, Charts, Fortune 500), the nation's largest oil company, posted a decline in quarterly profits, sending its shares 5.5 percent lower.
But embattled automaker Ford Motor (up $0.12 to $8.09, Charts, Fortune 500) surprised investors reporting an unexpected quarterly profit early Thursday, helped by reduced losses in its North American operations. Ford stock climbed nearly 2 percent in late afternoon trade.
Apple (up $8.74 to $146.00, Charts, Fortune 500) shares finished 6 percent higher after the company reported results that beat Wall Street's estimates after the market closed Wednesday.
3M Co., (up $0.43 to $90.05, Charts, Fortune 500) known for producing Scotch tape, was the sole Dow component that finished higher Thursday after the company reported earnings that topped Wall Street estimates.
In other economic news, orders for big-ticket items meant to last three years or more rose less than expected in June. Jobless claims fell unexpectedly last week, the government reported.
Market breadth was negative on heavier than normal volume. Losers topped winners 10 to 1 on the New York Stock Exchange on volume of 2.79 billion shares. Based on early tallies, the number of shares trading hands on the NYSE reached a record high Thursday.
Decliners beat advancers 5 to 1 on the Nasdaq on volume of 3.45 billion shares.
Treasury bonds surged as investors sought safety, taking the yield on the 10-year note to 4.78 percent from 4.91 percent late Wednesday. Bond prices and yields move in opposite directions.
While this week looks to be a big loser for the market, the outlook beyond that may not be so dreary.
Peter Cardillo, chief market economist for Avalon Partners, said Thursday's steep selloff was probably a blip in the latest leg of the bull market.
"I don't see it as an end to the bull market, but maybe the end of the bull run," he said. "I think that the market needs to reassess some of the euphoria that took place recently."
Investors still have some economic and earnings news to sift through Friday including a reading on second quarter GDP and the University of Michigan's consumer sentiment survey for July.
A handful of companies are set to report quarterly earnings Friday including oil giant Chevron (Charts, Fortune 500) and radio operator Clear Channel (Charts, Fortune 500).
-- Additional reporting by Keisha Lamothe