NEW YORK (CNNMoney.com) -- Coca-Cola, McDonald's and Nike are among the iconic American brands that suffered year-over-year declines in their "likeability" among global consumers, according to a new brand study report Tuesday.
This was the finding in the latest brand perception study from market research firm GfK Roper Consulting. The study tracked consumer attitudes to top global brands in 25 countries.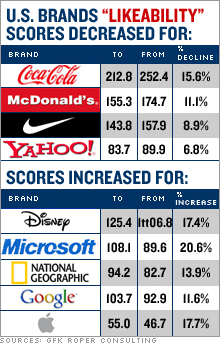 Last year's report showed these brands had improved their appeal to consumers in markets outside of the United States.
But souring sentiment toward U.S. brands, especially among consumers in developing markets in Asia, caused an abrupt reversal from the previous year's gains, said Jennifer James, consultant with Gfk Roper Consulting.
According to the Brand Power Study, which looked at a mix of 60 American and international brands, about half of the 33 U.S. brands listed showed year-over-year decreases in scores based on three key attributes important to consumers: familiarity, likeability and the likelihood that consumers would tell others good things about the brand.
"Today it's more difficult to get people to like your brand because consumers in developing and emerging markets have become much more discerning," James said. "Last year there was still heightened enthusiasm for American brands and also for European and other international brands. That's starting to wane."
To her point, the report showed an overall decline in likeability for American, European and Asian brands last year. But American brands were still the least favored overseas.
"Historically, American brands have always been the least-liked in other countries," James said. "This gets back to brand exposure and experience and the fact that some of these iconic brands are not so novel anymore."
Coca-Cola (Charts, Fortune 500), Kodak, McDonald's (Charts, Fortune 500) and Nike (Charts, Fortune 500) were some of the brands that suffered the biggest drops in their scores.
"These brands have to get consumers excited again," James said. "Successful companies are those that allow their customers to contribute more of themselves to the brand experience."
She cited Google (Charts, Fortune 500) as as example. The report showed that Google, Apple (Charts, Fortune 500), Microsoft (Charts, Fortune 500) and Disney improved their year-over-year likeability scores.
"Google is in an industry that allows customers to participate with the brand. In Google's case, users can customize their experience," she said.
While consumer products brands may not have the capacity to be as interactive with their consumers as Google is, she said the challenge for brands such as Coke and McDonald's is to get consumers more involved in product development, in advertising and marketing of the brand.
"The challenge for all brands is to really engage consumers around the world, especially if they want to increase their market penetration in the new and emerging markets," she said.
The study was conducted between Nov. 2006 and January 2007 and based on a total of 30,000 interviews with consumers aged 13 and older.