NEW YORK (CNNMoney.com) -- After three months of wrangling, News Corp., the media conglomerate run by Rupert Murdoch, has finally succeeded in its efforts to purchase Dow Jones in a deal the companies valued at $5.6 billion.
News Corp. and Dow Jones announced early Wednesday that enough members of the Bancroft family, which own a controlling stake in the publisher of The Wall Street Journal, have agreed to approve the takeover.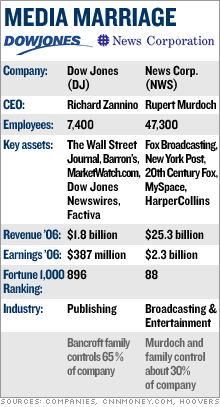 "I am deeply gratified at the level of support we have received from the Bancroft family and its trustees," Murdoch, News Corp.'s chairman and CEO, said in a statement. "Given the Bancrofts' long and distinguished history as custodians of Dow Jones, we appreciate how difficult this decision was for some family members."
In a joint statement, the companies said members of the Bancroft family and trustees for shares amounting to about 37 percent of the Dow Jones voting stock have agreed to vote for the transaction. News Corp. needed about 30 percent of the Bancrofts' voting power to back the deal in order to ensure that the company would have enough shareholder support for the merger.
As part of the agreement, the companies said a 5-member special committee will be formed "with the objective of assuring the continued journalistic and editorial integrity and independence of Dow Jones' publications and services."
The move is designed to assuage some Bancroft family members' concerns that Murdoch will compromise the integrity of the Journal, which the family has controlled for more than a century.
Nonetheless, there still are worries about how the WSJ may change under Murdoch. Some fear that the paper's coverage may broaden beyond business and feature stories similar to those that appear in the News Corp.-owned tabloid The New York Post.
But one media expert dismissed these concerns.
"The notion that Murdoch will trash the Journal and put nude models on the front page is just silly. He is a savvy and successful media operator," said James Owers, a professor of finance at the Robinson College of Business at Georgia State University who follows media mergers closely.
Another media expert agreed that if Murdoch tinkered too much with the editorial content of the newspaper, he risks losing readers and advertisers.
"This deal holds great promise and great peril for The Wall Street Journal. The peril for the company is Murdoch's reputation, If he started to meddle in an unseemly way, that would hurt. Readers are too sophisticated for cheerleading and that would be self-defeating. So there is an inherent self-correcting mechanism," said Rich Hanley, assistant professor of journalism and director of graduate programs at Quinnipiac University's School of Communications.
In a separate statement, a spokesman for the Bancroft family said that "the process of thoroughly reviewing a broad range of possible alternatives for Dow Jones has been long, complex and arduous."
The family added that "it is our most fervent hope that in the years to come, The Wall Street Journal will continue to enjoy, and deserve, the universal admiration and respect in which it is held all over the world, and that the Journal and Dow Jones's other print and online publications will continue to achieve great things as part of a larger, well-capitalized, global organization committed to upholding the long tradition of journalistic excellence, independence and editorial integrity of which we are all so proud."
Leslie Hill, a family member who opposed the takeover, resigned as a Dow Jones director late Tuesday, according to the Journal. In a letter to the board, she said the deal's good financial terms didn't offset "the loss of an independent global news organization with unmatched credibility and integrity," the newspaper reported.
Under the terms of the deal, a Bancroft family member or another "mutually acceptable person" will be named to the News Corp. board, the companies said.
Also as part of the agreement, up to 250 Dow Jones shareholders - representing not more than 10 percent of the company's shares - may have their shares converted into class B units of a new News Corp. unit. Those units will be convertible into News Corp. common stock valued at $60 a share.
The original offer News Corp. made for Dow Jones valued the company at $5 billion and News Corp. did not raise its bid. The companies did not explain how it got to the $5.6 billion value although Dow Jones does have about $500 million in debt that News Corp. would assume.
Shares of Dow Jones (Charts) rose 1 percent Wednesday morning after gaining more than 11 percent on the New York Stock Exchange Tuesday in anticipation of an official merger agreement. News Corp. (Charts, Fortune 500) rose slightly Wednesday after finishing Tuesday modestly lower.
The announcement comes after a week of intense debate among various Bancroft members about whether to agree to a sale. Several steadfastly refused to support a sale to Murdoch due to concerns about editorial changes he might make at the Wall Street Journal, while other family members were holding out hope that News Corp. may raise its bid.
But News Corp. did not budge from its original offer of $60 per share and the Bancrofts were ultimately forced to accept News Corp's bid or risk watching Dow Jones' stock price tumble. Some experts said the Bancrofts could have faced lawsuits from angry shareholders if they rejected the deal.
The deal gives Murdoch the nation's most widely read business newspaper - an asset he's coveted for years - and comes despite fierce opposition from critics, including some employees and Bancroft family members who worried about the paper's independence. But a combination of a knockout price and dogged persistence helped give the Australian-born newspaper man what he wanted.
News Corp. announced its bid for Dow Jones, which also owns Barron's, the Web site MarketWatch.com and Dow Jones newswires, on May 1. Since then, Murdoch held intense negotiations with the Bancroft family, which owns a controlling stake, about editorial independence at Dow Jones. The company has been a part of the Bancroft family since Clarence Barron bought Dow Jones in 1902 and left it to his stepdaughter Jane Bancroft after he died in 1928.
On June 20, Dow Jones said its board of directors was taking over the talks with Murdoch, leading many analysts to speculate that a deal to sell the company was not too far away.
Shortly thereafter, reports surfaced indicating that Murdoch and Dow Jones' board had reached an agreement regarding editorial safeguards after Murdoch had allegedly threatened to walk away from the deal.
There were few new developments in the takeover battle until Dow Jones' board announced on July 17 that it would approve a sale to News Corp. Members of the Bancroft family met in Boston on July 23 to discuss the deal and said that a final decision about how various members would vote should come within days.
But following that meeting, several Bancroft members indicated they would not approve the deal and one branch of the family argued that News Corp. should pay an even higher premium for the Bancroft's controlling shares. A News Corp. spokesman told the Journal on July 30 that Murdoch was "highly unlikely" to go forward with a full shareholder vote for the bid unless he was assured of more support from the Bancrofts.
A union representing Dow Jones employees has voiced its disapproval of the takeover, citing fears of possible newsroom job cuts and concerns about editorial integrity at the Journal and other publications.
While the newspaper's editorial board is notably conservative, its newsroom staff has a reputation for non-partisan reporting. The Dow Jones union claimed in a statement on the day the News Corp. offer was announced that Murdoch has "shown a willingness to crush quality and independence." News Corp. also owns the conservative-leaning Fox News Channel as well as the New York Post, the Times of London and other newspapers.
The union said in another statement on Tuesday before the deal was officially announced that it was "disappointed with the apparent decision by key Bancroft family members to support the sale of Dow Jones & Company to News Corp."
In fact, the union hired its own financial adviser to find an alternative suitor but thus far no other serious bidders have emerged. The publisher of the Philadelphia Inquirer also said he would be interested in teaming up on a bid if there were other interested parties.
There had been speculation that billionaire supermarket mogul Ron Burkle would also bid for the company, including suggestions that he would consider working with Brad Greenspan, the founder of MySpace, which is now owned by News Corp., who had offered to buy a minority stake in Dow Jones for $60 a share.
But several larger strategic buyers dropped out of the running. General Electric (Charts, Fortune 500) and Pearson (Charts), the British media firm that publishes the Financial Times, ruled out a bid for Dow Jones on June 21. Analysts have said that the steep price tag - News Corp.'s $60-a-share bid was 65 percent above where the stock was trading the day before the bid was announced - scared away other possible purchasers.
The acquisition of Dow Jones is expected to help jumpstart News Corp.'s launch of its new Fox Business Network in October. News Corp. announced plans for the channel, which will compete with CNBC, in February. CNBC and Dow Jones have an exclusive content-sharing deal that runs until 2012 in the United States.
News Corp. had been one of the better performing media stocks of the past year thanks to the ratings and box office success at the company's Fox broadcast network and movie studio, as well as optimism about its online strategy. But the stock has dipped nearly 5 percent since News Corp. announced its bid for Dow Jones.
"Investors don't seem too pleased with the acquisition. It's going to be a long time before we know how this deal shakes out for News Corp. and if the synergies with the new TV channel work out," said Joe Bonner, an analyst with Argus Research.
But Quinnipiac's Hanley argued that Dow Jones, under News Corp., could wind up doing better online. Hanley pointed to the company's success with digital media assets like MySpace.
Hanley suggested that one quick change News Corp. could make at the WSJ would be to make the online product completely free in order to increase readership and online advertising. Much of the content on the Journal's Web site is currently only available to paying subscribers.
"News Corp. could help stop the bleeding at Dow Jones. News Corp. is moving aggressively online and I think Murdoch will tear down the subscription wall at the Journal," he said.
Before News Corp's bid, Dow Jones stock languished for the better part of two years as investors soured on newspaper publishers due to falling circulation and lower ad sales as more readers and advertisers flock to the Web for news.