NEW YORK (CNNMoney.com) -- Regional department store chain Bon-Ton Stores, video game specialist GameStop and restaurant chain operator Triarc secured the top three slots in this year's list of the "Hot 100" retailers with the fastest-growing sales.
The latest industry ranking of the "Hot 100" ranking considered all public store chains with sales of more than $100 million.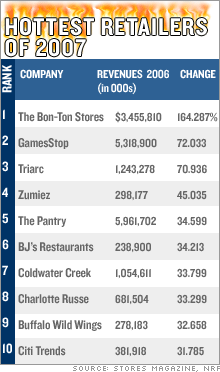 It's the second year that Stores magazine, a monthly publication of the National Retail Federation (NRF), has put out such a list.
According to the list, the convenience store group saw the highest year-over-year sales growth, at 21.9 percent. The department store sector followed with a 21.5 percent jump in sales.
"Smaller companies must be innovative risk-takers to compete with mega-brands, and many of them are winning," Susan Reda, executive editor of Stores, said in a statement.
"Mid-sized retailers can also implement new ideas more quickly than large competitors. With a flawless combination of creativity and cost savings, the Hot 100 Retailers are setting the curve for the rest of the industry," Reda said.
While all but four of the Hot 100 Retailers saw double-digit sales increases in 2006, a handful of companies stood out from the group.
Many of the Hot 100 Retailers also grew through acquisitions. Regional department store chain The Bon-Ton Stores (Charts), which topped the list, grew its sales by more than 164 percent last year due largely to its acquisition of Saks' northern department store division in 2006.
GameStop (Charts, Fortune 500) dropped down to the No. 2 position after topping the list last year. Its sales jumped 72 percent after its acquisition of rival Electronic Boutique doubled its size.
Nearly one-fourth (23) of the Hot 100 Retailers are restaurant companies, including Triarc (Charts) at No. 3 which operates Arby's, BJ's Restaurants at No. 6 and Buffalo Wild Wings at No. 9.
Other names in the top 10 include Zumiez (Charts) at No. 4. Zumiez is an online and mall-based seller of clothing and accessories for active sports like snowboarding, skateboarding and surfing.
Convenience store chain The Pantry appeared at No. 5, upscale casual apparel seller Coldwater Creek (Charts) at No. 7, teen clothier Charlotte Russe at No. 8 and value-priced clothing chain Citi Trends rounded out the top 10.
Wal-Mart (Charts, Fortune 500), the world's largest retailer, didn't fare as well, ranking at No. 78 with an 11.7 percent year-over-year sales increase. Wal-Mart is still No. 1 with total annual revenue of $348.6 billion, but the retailer's bulky operations have slowed down earnings and same-store sales growth versus its peers.