NEW YORK (CNNMoney.com) -- This year's trifecta of a housing slump, credit market crunch and high gas prices has made investors very jittery about retail stocks that are especially vulnerable to those risks.
But some industry watchers, who cite the continued strength in consumer spending, say investors shouldn't bail out of retailers just yet.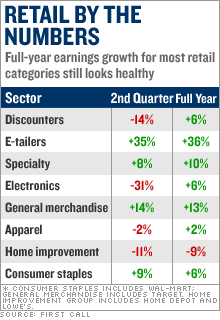 A quick overview of the retail stock landscape shows some casualties. Shares of home improvement chains Home Depot (Charts, Fortune 500) and Lowe's (Charts, Fortune 500) year-to-date have lost more than 8 percent and 10 percent, respectively.
As home prices drop, fewer people can pull cash from their homes to pay for renovations. And the slowdown in building activity has hurt sales of building supplies, a key product category for both those retailers.
Meanwhile, the turmoil in the subprime mortgage market means low-income households will have a harder time accessing cheap credit. That's bad news for big-ticket sellers like Sears (Charts, Fortune 500), which sells washing machines and dryers. Its stock has slumped 20 percent year-to-date
And discounter Wal-Mart (Charts, Fortune 500) blames the run-up in gas prices for poorer sales at its stores. Wal-Mart shares are up just 1.8 percent this year.
"To say the market is jittery is as much an understatement as saying Wal-Mart has low prices," Goldman Sachs analyst Adrianne Shapira wrote in a note to clients Monday.
As dire as the outlook appears, however, retail investors shouldn't run for the exits just yet. Why? Americans are still spending and they're feeling good about it.
On a shopping spree
Consumer confidence in July reached its highest level in nearly six years, the government reported last month, as Americans remained optimistic about their jobs and income prospects.
What's more, retail sales in the first six months have been relatively strong -- up 2.7 percent year-to-date -- and just shy of the 3.0 percent target that typically denotes a healthy growth rate. Strong back-to-school sales last month could push the growth rate above 3 percent.
July also marked the start of the back-to-school shopping period, which is the second most-important selling season for merchants after the holiday gift-buying months of December and January.
Wal-Mart ignited a price war early in the season by slashing prices on thousands of school products, which spells good news for cash-strapped consumers.
"Consumers win any time there's aggressive pricing competition," said George Whalin, CEO of Retail Management Consultants.
Stuart Hoffman, chief economist with PNC Financial Services Group, wrote in a recent report that, while fluctuating gas prices have had a "chilling effect" on spending, he "expect[s] a bigger gain in real consumer spending this quarter helped by solid back-to-school sales."
Goldman Sachs' Shapira advises retail investors to keep an eye on two key guideposts this month.
First are July same-store sales. On Thursday, most retailers are expected to report sales at their stores open at least a year, which is a key measure of retail performance also known as same-store sales.
"While we suspect there has been a clear softening in trends beyond the home category into apparel, we do not expects sales to be as disappointing as the stocks are anticipating," wrote Shapira. That's crucial because consumer spending fuels two-thirds of the nation's economy.
Among the early results,McDonald's (Charts, Fortune 500) posted Wednesday a 6.5 percent jump in its July same-store sales.
Sales tracker Thomson Financial, which compares sales at 47 retail chains, estimates that July same-store sales overall rose 2.9 percent. But excluding the drag from Wal-Mart's weak sales growth, same-store sales are expected to increase 4 percent.
Retailers could also get a slight sales boost this month thanks to the tax-free shopping week that some states offer every summer to help families with their school-related expenses.
"I think the tax-free week could certainly help [retailers]," said Mark Montagna, analyst with C.L. King & Associates.
The second guidepost for investors, according to Goldman Sachs' Shapira, is retailers' second-quarter earnings period, which began in July and continues in earnest this month.
"With respect to the second quarter, we believe the tone to be cautiously optimistic heading into the [fourth-quarter] holidays," she said.
Expect to see some clear winners and losers this earnings season.
Profits for e-tailers such as Amazon (Charts, Fortune 500), which have already disclosed quarterly results, surged 35 percent in the second quarter and are forecast to jump 36 percent for the full year. Meanwhile, earnings at general merchandise stores, including Target (Charts, Fortune 500), are projected to grow 13 percent for the year, according to analysts surveyed by Thomson Financial.
Despite Wal-Mart's sluggish sales, full-year earnings growth for the consumer staples category, which includes Wal-Mart, is forecast to rise 9 percent in the second quarter and 9 percent for the full year. Wal-Mart is due to report quarterly results Tuesday.
Even though profits at consumer electronics sellers such as Best Buy (Charts, Fortune 500) and Circuit City (Charts, Fortune 500) have suffered in light of tougher competition from Wal-Mart, the sector is expected to see earnings grow 6 percent for the year as consumers continue their love affair with pricey flat-panel TVs.
Profits for clothing chains are anticipated to dip 2 percent in the second quarter and rise just 2 percent for the full year.
One sector worth avoiding, at least until the real estate slump eases: home improvement.
Apparel sellers continue to be a mixed bag, but investors can still find some successes, says Mark Montagna, analyst with C.L. King & Associates
For clothing chains, it's merchandise and pricing -- instead of seesawing gas prices -- that will determine where and how often Americans shop in the months ahead.
"I think people are overly focused on gas prices," Montagna said. "We've been dealing with gas price inflation for three years now. People are still shopping. If you have the merchandise that other retailers can't get hold off, then you can also maintain your prices. This will boost profits."
He cited apparel chain TX Maxx as an example. TJX (Charts, Fortune 500), which operates TJ Maxx, raised its second-quarter guidance last month.
"Even though the housing market is an uncertainty for consumer spending, the unemployment rate is still pretty low at 4.2 percent," Montagna said "People are still working, they're getting paid and they'll have money to shop."
-- Analysts quoted in the story do not personally own shares of the companies they cover.