NEW YORK (CNNMoney.com) -- President Bush said Wednesday the U.S. economy is thriving and he is doing what it takes to keep it strong.
The president spoke with economic advisors at the Department of Treasury and discussed how the United States' economy has flourished and played an important role globally.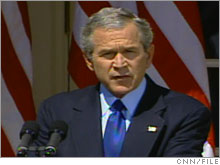 "My administration follows a simple philosophy: Our economy prospers when we trust the American people with their own paychecks," Bush said.
In his remarks, Bush said tax cuts let Americans keep their own money and he would veto Congress' choice to raise taxes because it has helped the economy grow.
"Democrats in Congress want to increase taxes and turn them into additional government programs, and I strongly oppose that approach," Bush said.
Bush also addressed ways that he plans to tackle long-term challenges to the economy by opening up markets for goods and services and expanding free trade, concluding the Doha Round of trade negotiation, and reforming the health care system to make it more affordable and available.
Bush also thanked Treasury Secretary Hank Paulson for joining his administration, after a long career as one of the world's most successful investment bankers.
Bush quoted Paulson as saying, "This is far and away the strongest global economy I've seen in my business lifetime."