(Business 2.0 Magazine) -- For smokers who want to quit, there are pills, patches, and gum. But how about an electronic nicotine delivery device that looks and feels like smoking -- without the smell or the carcinogens?
That's what Hong Kong-based Golden Dragon Group is selling. Known as Ruyan (meaning "like smoking"), the electronic cigarette is a $208 battery-powered atomizer.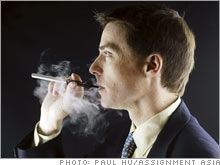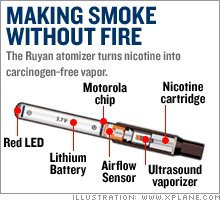 Cartridges containing pure nicotine, available in three strengths and good for some 350 puffs each, cost about $4.
Inhale, and the Ruyan -- powered by a Motorola (Charts, Fortune 500) chip -- turns the nicotine into smokelike vapor. "We don't claim smoking cessation, just smoking substitution," says Scott Fraser, vice president of Golden Dragon subsidiary SBT, which came up with the Ruyan.
But "it could be used to ratchet down nicotine consumption."
Ruyan was launched in China in 2004, and last year its sales reached $36.5 million. Turkey quickly became Golden Dragon's second-largest market, followed by Israel and Australia.
Working with an unnamed U.S. partner to get FDA approval, Golden Dragon expects to double current sales by the end of the year. Morgan Stanley analyst David Adelman says the e-cigarette would be lucky to snare even 1 percent of the U.S. cigarette market.
Still, that would add up to a healthy (cough) $750 million.

click here
.