NEW YORK (CNNMoney.com) -- U.S. stocks are likely to take another beating Friday, as the spreading credit crisis roils markets around the world.
At 8:36 a.m. ET, Nasdaq and S&P futures were lower, with a comparison to fair value pointing to heavy losses for stocks at the open. But futures came off their lows around 8:30 a.m. when the Federal Reserve injected $19 billion in liquidity into the nation's banking system.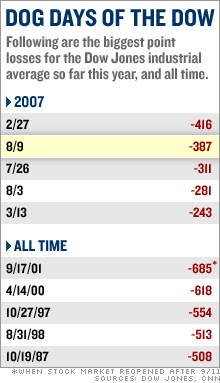 Treasury prices continued to climb as investors sought shelter in the safe-haven investments, lowering the yield on the benchmark 10-year note to 4.74 percent from 4.77 percent late Thursday. Bond prices and yields move in opposite directions.
Investors are reeling from one of the year's worst days on Wall Street. The Dow Jones industrial average, which tracks 30 large U.S. stocks, suffered its second worst session of the year on Thursday.
Overseas investors followed in step, dumping stocks even as central banks attempted to calm fears. Asian markets sank overnight. European shares plunged, erasing their 2007 gains and turning negative on the year.
The latest bout of turmoil in the stock markets comes amid growing signs that problems in the U.S. mortgage sector are spreading overseas. French bank BNP Paribas said Thursday it was freezing withdrawals from three of its top funds because an evaporation of liquidity made it impossible for it to value their assets.
Meanwhile, Countrywide Financial, the nation's leading U.S. mortgage lender said in a Securities and Exchange Commission filing late Thursday that "unprecedented" poor conditions in the secondary-mortgage market are causing it to retain a greater proportion of mortgage loans than it sells.
Countrywide (Charts, Fortune 500) shares tumbled 16 percent in pre-market trading on the news.
Stocks have been selling off globally, despite an injection of liquidity by central banks around the world. The European Central Bank pumped funds into European money markets for a second time Friday as banks rushed to secure cash. The ECB added about $131 billion into markets Thursday.
Other central banks, including the Federal Reserve, Bank of Japan and Bank of Canada, have also intervened in their respective markets, although on a lesser scale. The Fed pumped about $24 billion into cash markets Thursday.
There will be little economic news Friday to distract investors from their credit fears. A report on import and export prices is due, but is unlikely to move markets, and the calendar is light on earnings reports.
Oil prices tumbled, with U.S. light crude for September delivery falling 66 cents to $70.93 a barrel in electronic trading.
In currency markets, the dollar fell against the yen and euro.