(Business 2.0 Magazine) -- Finding customers on the Web nowadays sounds so easy: Sign up for Google AdWords, tap out a punchy two-line pitch, and let the power of search take over. Millions of people spot your ad and -- poof -- the money starts pouring in.
Fortunately for Mark Vurnum, a former marketing exec from London who now earns his living poolside from a villa in Cyprus, plenty of businesses are doing a lousy job at it.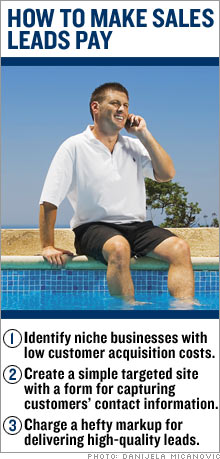 Vurnum, 32, says he makes about $50,000 a month generating Glengarry-quality sales leads for companies that dabble in paid search but lack the skills required to exploit it effectively. They may have elegant websites with luscious pictures and tons of information. Their search ads may even draw lots of traffic. But more often than not, they're failing to convert traffic into sales.
Vurnum's approach is as simple as it is shrewd. The market for online lead generation in areas like financial services -- where companies pay handsomely for new customers -- is already overcrowded. So Vurnum targets smaller businesses in niche markets.
"The more obscure, the better," he says.
Most companies manage the buying of keywords just fine. If you run, say, a home-theater installation service in Naples, Fla., you're likely to buy up terms about remodeling tied to Naples.
The problem, Vurnum says, is that many companies tend to treat their websites like fancy brochures instead of in-your-face marketing tools. Vurnum's approach, by contrast, is straight out of Direct Marketing 101.
First he'll cold-call a business and ask how its paid-search campaigns are going. Most of the time, he says, the company isn't quite sure. That's Vurnum's cue to pounce. "I ask, 'If I generate a lead for you right now, would you buy it?' They always say yes."
His latest client: First Choice Holidays, a U.K.-based company that sells travel packages. Vurnum saw a First Choice ad for destination weddings in Cyprus, but he noticed that the offerings were buried deep in the company's website.
So he e-mailed First Choice, offering to deliver potential clients. He set up a site (destinationwedding.co.uk) with nothing more than a front page. Below a generic happy-couple photo and a title ("Destination Wedding"), Vurnum slapped in some highly targeted copy with lines like "What you must know before you make any plans for booking your dream wedding in Cyprus."
At the bottom he added what's known as an auto-responder template, in which visitors enter information such as their e-mail address and wedding date. The auto-responder (run by AWeber, one of many cheap providers) fires off two e-mail messages, one to the customer, the other to First Choice.
The page looks so bare-bones that Vurnum says he doesn't even show this kind of site to his clients for fear they'll disapprove.
How does Vurnum get paid? He charges clients a month in advance: If a company wants 300 good leads by a certain date, he delivers. To price his services, Vurnum checks the cost of keywords to calculate what it will cost him per lead and typically doubles that amount.
The beauty of the model, he says, is that it can be applied to virtually any kind of business anywhere in the world. "I'll be brutally honest with you," he says. "I'm not a genius in any way, shape, or form. Anyone can do this. And there's an endless supply of customers who want someone to do this for them."
Editor-at-large Paul Sloan covers the ever-changing Internet landscape on his blog, The Key.

click here
.