NEW YORK (CNNMoney.com) -- Los Angeles Salad Company is recalling its baby carrots because of potential contamination with the bacteria Shigella, said the Food and Drug Administration Thursday.
The company is recalled its "Genuine Sweet Baby Carrots" with a Sell By Date up to and including August 16, 2007. The date is printed on the back of the packages.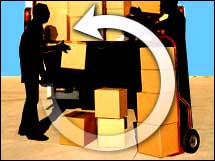 The product was sold under two different labels. The first is "Los Angeles Salad Genuine Sweet Baby Carrots" distributed by King Soopers in Colorado; Ralphs in California; and Publix in Georgia, Tennessee, Alabama, South Carolina and Florida. These were sold in plastic bags in 7 and 8 oz. sizes, with Sell By Dates up to August 16, 2007.
The second label was "Trader Joe's Genuine Sweet Baby Carrots" distributed by Trader Joe's in Arizona, California, New Mexico, Nevada, Oregon and Washington in 7 oz. plastic bags with Sell By Dates up to August 8, 2007.
Infection by the bacteria Shigella can cause diarrhea, fever, nausea and vomiting, with the illness usually lasting from four to 14 days. Infections can be passed from person to person.
The recall was launched after it was discovered that some carrots sold in Canada were contaminated with the bacteria, causing four reported cases of illness between August 4 and 6, 2007. No one was hospitalized and all have fully recovered.
An investigation has not yet revealed the cause of the contamination.