NEW YORK (CNNMoney.com) -- U.S. stocks were set to pull back a bit Tuesday, giving back some of the gains garnered late last week, as Wall Street returned from an extended holiday weekend.
At 6:22 a.m. ET, Nasdaq and S&P futures were lower.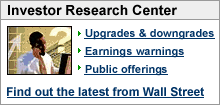 Economic reports will greet investors after the markets open. The biggest one is the Institute for Supply Management's monthly reading on manufacturing activity, which is expected to show a decline in August to 53 from 53.8 in July, which would still indicate some expansion.
Also due are reports on July construction spending and August auto sales.
U.S. automakers General Motors (Charts, Fortune 500), Ford Motor (Charts, Fortune 500) and Chrysler Group are again forecast to post a steep drop in sales from a year ago, while sales at Japanese rivals such as Toyota Motor (Charts), Honda Motor (Charts) and Nissan (Charts) are forecast to be higher. The results could again leave domestic brands behind the import brands in U.S. sales, as they were for the first time on record in July.
The markets rallied Friday after comments from Federal Reserve Chairman Ben Bernanke eased concerns about interest rates, and comments from President Bush indicated some help for consumers affected by the subprime mortgage crisis. Markets were closed Monday for Labor Day.
Treasury prices were little changed in early trading, leaving the yield on the 10-year note near the 4.53 percent level reached late Friday. The dollar was up against the euro but lower versus the yen in early trading.
Oil prices hovered near the $74 a barrel mark, as Hurricane Felix appeared to be on a course that made it less likely to hit major oil facilities in the Gulf of Mexico. But the storm stirred up concerns by traders about the threat that future storms posed to those facilities.
Among stocks in the news to start the new week, shares of Dow component Merck (Charts, Fortune 500) could get a lift from a report over the weekend that its experimental cholesterol drug Cordaptive can reduce so-called bad cholesterol and increase the levels of "good" cholesterol with minimal unwanted side effects.
There was also good news for drugmaker Eli Lilly (Charts, Fortune 500), on a report that its experimental drug Zyprexa, which treats schizophrenia, appeared to work safely in patients, without some of the annoying and dangerous side-effects of older drugs.
Heinz (Charts, Fortune 500) saw Zimbabwe's government take over control of its 51 percent stake in the African nation's leading cooking oil maker. The government paid it $6.8 million for its stake in the firm.
The Wall Street Journal reported Monday that Sony (Charts) is preparing a major push in the business of video-downloads, a move that would be a challenge to rival Apple (Charts, Fortune 500).
The Journal also reported that the Consumer Product Safety Commission is now investigating toymaker Mattel (Charts, Fortune 500) over the timeliness of its disclosures of safety problems with toys imported from China.
AT&T (Charts, Fortune 500), the nation's largest wireless phone service, is set to unveil an offering Tuesday that will give parents wide-ranging control over the cell phone usage of their children.