(Business 2.0 Magazine) -- As lucrative as Internet advertising can be, almost all of it is wasted. Companies are set to shell out a total of $19.9 billion for online ads this year, but just 2 percent of the Web surfers who are exposed to those ads will click on them (and even fewer will actually make a transaction).
Until now, that paltry click-through rate has simply been accepted as the norm. But a company called Fetchback aims to turn things around with a cyberstalker-like technology called ad retargeting.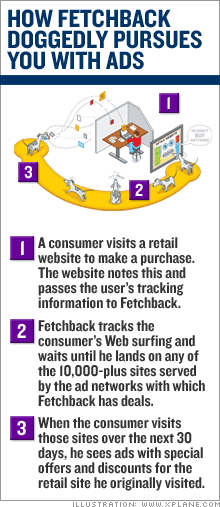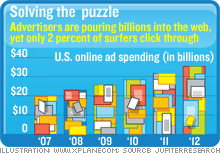 Fetchback's slightly creepy solution to the problem works like this: Say you find yourself on the website of Discover Card (Charts), a Fetchback client. After a few seconds, you get bored and move on. Later in the day, while you're browsing Amazon.com (Charts, Fortune 500) for the latest Harry Potter book, an ad for Discover Card pops up - encouraging you to visit the company's site for a special deal. You decide not to.
The next day, you're sifting through your LinkedIn page, and another ad for Discover Card appears - this time offering you a $20,000 limit on your next card if you click now. That does the trick. You give in and click.
Retargeted advertising converts people who are already interested - you were visiting the Discover Card site for a reason, right? - into buyers. "We're enabling companies to reconnect with a lost customer," says Chad Little, CEO of Fetchback. "You're much more likely to convert customers if you're consistently in front of them."
Little says the first 30 days after you window-shop for a product or service are crucial, as thoughts of the thing you might have owned are still buzzing in your head. Call it nonbuyer's remorse. But he's also aware that it's easy to turn people off with saturation bombardment. So surfers who visit a client's site will receive one to five re-targeted ads during the next 30 days, each one subtly increasing the value of its special offers - upping the ante as deftly as a haggling rug merchant.
The offers can get very specific, based on your browsing habits. Surfed 1-800-Flowers.com and priced its roses? Your re-targeted ads are likely to be decorated with those same red blooms.
Little's firm, just three months old, has already signed up 20 clients, and he expects that number to pass 3,000 by the end of the year. Retargeting "will become increasingly important as advertisers get smarter about optimizing online media buys," says Shar VanBoskirk, a senior analyst at Forrester Research (Charts).
Ad retargeting isn't a Fetchback invention. Online ad giants like Blue Lithium, DoubleClick, and Right Media have experimented with it in recent months. But Fetchback is the first to offer retargeted ads across all these companies' networks, vastly increasing the potential scope of the campaign.
And while the larger ad networks charge according to how many users are exposed to an ad, Fetchback charges only for the click-throughs. The better the ad performs, the cheaper those clicks are - and the easier it becomes to cyberstalk your customers.

To send a letter to the editor about this story,
click here
.