NEW YORK (CNNMoney.com) -- Stocks appeared poised for a weak opening Tuesday as oil surged to a new intra-day record, but the key event for investors will be the Federal Reserve's eagerly anticipated decision on rates due at 2:15 p.m. ET.
U.S. stock futures were pointing to a higher start for Wall Street.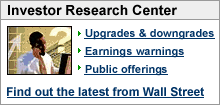 Investors expect the Fed to lower its benchmark short-term interest rate at after more than a year without change, but the central bank could disappoint investors if it doesn't cut rates by as much as they hope.
A quarter-percentage point cut is all but certain. But that might not be enough to satisfy markets as some investors have hoped that the Fed will take the federal funds rate down to as low as 4.75 percent, from the current 5.25 percent.
Inflation on the wholesale level fell 1.4 percent in August, far more than expected. The more closely watched core PPI, which strips out volatile food and energy prices, rose a higher-than-expected 0.2 percent.
The PPI comes the day before the Consumer Price Index, the government's key inflation reading that follows prices at the retail level, is released to the public. The Fed policymakers will get a look at the CPI report before they make their decision.
The decision by Fed chairman Ben Bernanke and other policy makers comes a day after the much-ballyhooed debut of a book by Bernanke's predecessor, Alan Greenspan, whose views on the economy and politics were widely quoted.
Oil prices could create some inflation pressure going forward after they crossed the $81 a barrel mark in early trading Tuesday, reaching an intra-day record high, before retreating. But even with that retreat prices for a barrel of light, sweet crude for October delivery was still up 16 cents to $80.83 in early trading.
The problems in the credit and financial markets that may prompt a Fed rate cut will have other impacts on stocks Tuesday.
Wall Street firm Lehman Brothers (Charts, Fortune 500) posted lower earnings that were still better than expected for the quarter ended in August. It is the first major bank to report earnings since the subprime meltdown and credit crisis hit global financial markets. Other top Wall Street firms are due to report results this week.
Discount brokerage E-Trade (Charts) is the latest company to be hit by the turmoil. The company on Monday cut its full-year profit outlook, saying a tightening in the credit markets was forcing it to exit its wholesale mortgage business. Shares fell 6 percent in after-hours trading.
In addition, Bank of America (Charts, Fortune 500), the nation's No. 2 bank, said at an investor converence Monday afternoon that the financial credit markets turmoil will have a "meaningful impact" on third-quarter results in its corporate and investment banking units, and that some market conditions will take time to return to normal conditions.
And subprime mortgage lender NovaStar Financial (Charts) announced it was suspending a planned dividend on its common stock due to demands on the company's liquidity and a decline in its market value. Its shares plunged nearly 19 percent in after-hours trading on the announcement.
In corporate news away from the financial markets turmoil, talks between the United Auto Workers union and General Motors (Charts, Fortune 500) recessed relatively early Monday evening after two sessions that went virtually all night during the weekend. There were some reports of progress in the talks to reach an agreement to replace the one that had been set to expire Sept. 14. Negotiators are due back at the table Tuesday morning.
Apple (Charts, Fortune 500) announced details of its plan to release its iPhone in England on Nov. 9, which will be the first country outside the United States to be offered the popular device. It will sell for £269, or $537, including tax.
In global trade, stocks in Asia generally closed lower, while major markets in Europe were mostly flat in early trading ahead of the Fed decision.
The dollar was higher against the euro but lower versus the yen.