(Business 2.0 Magazine) -- You can choose the design of your phone, your computer, and your car - so why not your condominium?
That's what Chad Oppenheim, head of Miami-based Oppenheim Architecture & Design, asked himself while putting together his architectural thesis at Brown University.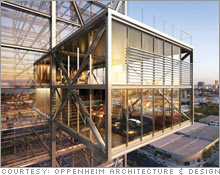 Hang out: There are more than 112 modules available - not counting the ones residents will design to jut from the sides.
Build simple: The $40 million project is made of precast concrete slabs, saving the developers up to 20 percent in construction costs.
The question became the impetus for his latest project: a condominium complex, set to be completed by the end of 2010, that takes a bottom-up, user-generated approach to constructing residential space.
The $40 million, 15-story Cube, located in Miami's Design District, lets its residents-to-be choose the layout and size of their units by buying small cubes of space in the building.
Each cube costs around $400,000, and you can stack them horizontally or vertically.
Want one of your cubes to hang off the side of the building? No problem.
The cubes are available on a first-come, first-served basis, although you can't book them online yet. Oppenheim says residents shouldn't be forced to compromise. "The goal is to create an innovative but simple structure that gives flexibility," he says. "This is going to be the next tier of living."

To send a letter to the editor about this story,
click here
.