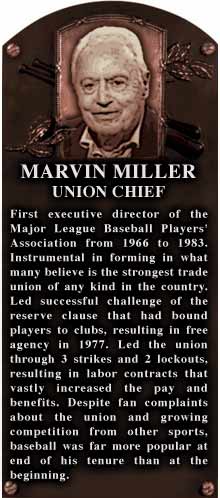 NEW YORK (CNNMoney.com) -- Imagine a runner rounding third and heading for home, only to have a last minute rule change move the location of the plate. That's roughly what happened to Marvin Miller's chances of getting his long overdue recognition in baseball's Hall of Fame.
Miller, the former executive director of the Major League Baseball Players Association, turned the economics and power structure of the sport on its head during his career.
But being the head of the players' union did not make him popular with owners. And that's why there's probably a better chance of Hillary Clinton winning the Republican nomination for President than there is of Miller getting into Cooperstown.
Miller is one of 10 executives being considered for election in baseball's Hall of Fame on Monday. But to win that much deserved honor, he's got to get the support of 75 percent of a committee made up primarily of current and former team owners and executives. Only two players are on the committee, along with three writers.
This is unfair. Until February, Miller's candidacy for the Hall had been in the hands of a committee of all living Hall of Famers, primarily players. And while he came up just short in a vote in February, it appeared he was well on his way to eventual election. He got 63 percent of the vote, a level of support that has translated into eventual induction in subsequent votes in almost every case.
While some older players in the Hall might not support the changes in the game that came about because of the players' union, each election was bringing new members who had benefited from the advantages Miller achieved for players, such as salary arbitration and free agency.
So it seemed likely that he'd eventually get a plaque in Cooperstown.
Now, Miller has to hope that executives on the committee, including Kansas City Royals owner David Glass, a former CEO of Wal-Mart Stores (Charts, Fortune 500), which has never been described as union-friendly, and Andy MacPhail, president of the Orioles, whose grandfather and father both are in the hall as executives, will see fit to vote for him.
MacPhail's grandfather Larry was an owner back in the pre free-agency days when the reserve clause gave owners total control over their players' careers. His father Lee was a team executive and league president in a career that overlapped with Miller's tenure with the Players Association.
Clearly, this is not a pro-union crowd. The only solution, rather than having him lumped in with former adversaries, is to have the Hall of Famers continue to consider him when they continue to vote on players who have gone through 15 years of consideration by the writers without getting in.
It's a shame that the rules were changed since Miller, no matter what owners may think of him, deserves to be honored. The economic system that Miller helped to bring about is a major reason for the game's popularity.
The potential riches of free agency helped attract a generation of young athletes to the sport who might have gone elsewhere without it.
It also led teams to make more concerted investments in player development, such as international scouting, as a way of finding lower-cost alternatives to top-dollar free agents. Today's game is certainly a better product thanks to the influx of so many talented players from Latin America and Asia.
And the riches gave the players the incentive and wherewithal to spend time honing their craft, spending the offseason training and practicing rather than working other jobs to pay their bills.
Baseball junkies love to debate about statistics and what they mean. But it's hard to argue with these numbers: average per game attendance increased 56 percent from 1965, the year before Miller came on the scene, to 1983, his last year with the union, in spite of professed fan anger over five work stoppages during his tenure.
Hall President Dale Petroskey insisted to me this week that the committee members are fair minded and serious about their responsibility and that gives Miller a solid chance to be elected.
"It's presumptuous to say he won't do as well as he did with the Hall of Famers," he said. "It's a very good ballot, any one of whom could be elected."
I hope I'm wrong, but I have trouble picturing this being the kind of room where there will be a lot of consensus that the union has been good for baseball.
For his part Miller said he never had thought he would make it to the Hall, so he's not overly concerned about the change in voting procedure.
"I've never prepared an acceptance speech," he said with a chuckle. And he said he can even understand the reason for having a committee of executives and owners take over the voting on candidates other than players and managers.
"Assuming they have the best intentions, and that may be a dangerous assumption, it would makes sense for executives to be judged by a jury of their peers, people who knew them or knew their work," he added.
I called the press offices of all the teams whose executives will be voting Monday to try to talk to them about Miller, or at least about their views of whether the union and free agency have been good or bad for the game.
Only one - Minnesota Twins President Jerry Bell - returned my call. He said he hasn't made a decision about who he will vote for, but I wasn't surprised that he has at best a mixed view of the changes Miller brought to the game.
Bell, whose team has one of the lower payrolls in the majors, has been taking far more calls from reporters these days asking him about whether he'll trade his best player, pitcher Johan Santana, for low-paid prospects rather than lose him to free agency a year from now. He's already lost his All Star center fielder Torii Hunter to free agency this winter.
There will be at least one union-friendly voter on the committee, Paul Hagen, a sportswriter for the Philadelphia Daily News, and a vice president with the union at his paper.
Hagen told me he thinks Miller is a very strong candidate because of his impact on the game.
Sure, as a sportswriter and fan, Hagen said he hated baseball's history of frequent strikes under Miller. But he said you can't really blame Miller for taking a hard line in talks. And he agreed with me that the record popularity of the game is a sign that the union has had a positive impact on the sport.
"The owners were used to having things their way. They weren't interested in changing the way of doing things without strikes," said Hagen.
Miller usually got the better of the owners and executives in labor talks. But they'll prove they're better than I'm giving them credit for if they can now put those past defeats behind them and properly honor their former adversary.
Sadly, I don't think that you'll be seeing a plaque in Cooperstown for Miller like the one our graphics department made up for this column anytime soon. But here's hoping I'm wrong and that I'm having crow for lunch come Monday.