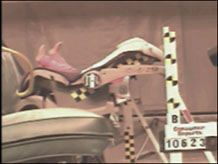 Consumer Reports says Evenflow's Discovery failed its tests and doesn't meet federal safety standards.
BETHESDA, Md. (CNN) -- Infant injuries in cribs, strollers, playpens and other nursery products are on the rise, according to an annual report released Thursday by the Consumer Product Safety Commission.
An estimated 66,400 nursery-product related injuries occurred in children under 5 years old in 2006, an 11% increase from 2005, the CPSC said.
According to the report, infant carriers/car seats, cribs and strollers were associated with the most injuries, and falls were the leading cause of injury. The head was the most injured body part.
"What we tell parents is these tragedies occur in a moment and they have to be alert to the fact that they can occur and they're preventable" CPSC Chairman Nancy Nord said in an interview with CNN.
The report also shows that at least 241 infant deaths occurred from 2001 to 2004 and 97 of those, about 40%, were associated with cribs.
"Unfortunately, we see too many deaths of infants and young children in their cribs from suffocation hazards," Nord said while standing in a mock nursery set up by the CPSC.
The commission recommends that parents place children on their backs for sleeping and remove fluffy pillows, comforters and stuffed animals from the crib to reduce the risk of suffocating. Mattresses that are not the right size, allowing gaps to form between it and the railings, can also be a hazard.
Infants falling from changing tables is another concern and often happens when parents take their eyes off the child.
"It seems like such a minor thing to go across the room to get a new diaper but in that several seconds the child can fall of the table and injure themselves," Nord said while standing at a changing table. She recommends having all the needed supplies at the table, and keeping a hand on the baby if the caretaker must look away for a moment.
The report does not say why there has been an increase in injuries - and, in fact, there were more injuries reported in 2002.
The CPSC says it is constantly policing manufacturers to ensure that all nursery products are safe, but is also asking parents to make sure their child is in a safe environment at all times.