Wall Street deflates on banks, tech
Stocks drop at end of jittery session as disappointing news in the financial and tech sectors offsets upbeat employment report.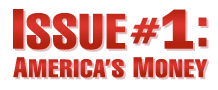 Issue #1: America's Money - Everyday on CNN
NEW YORK (CNNMoney.com) -- An up and down day on Wall Street ended decidedly down Thursday, as investors demonstrated concern about shaky news from the financial and tech sectors.
At the session's end, the Dow Jones industrial average (INDU) traded down 120 points, or about 1%. The broader Standard & Poor's 500 (SPX) index slipped 1.2%, and the Nasdaq composite (COMP) lagged further behind, losing 1.9%.
Stocks seesawed throughout the session, rising at the start of the day on a better-than-expected economic report. But it was not enough to keep disappointing news for banks and two tech giants from sending stocks lower.
"[Wall Street] continues to be a volatile environment, because investors find it easier to believe the bad news than the good news," said Barrett Capital Management Chief Information Officer Russell Lundeberg, Jr.
Wall Street attempted several comebacks throughout the day, as the Federal Reserve auctioned off another $75 billion in credit to investment banks. But tries for a rebound stalled each time, and stocks tanked with about an hour left in the session.
"The market is reaching the higher end of its trading range in the current climate," said Avalon Partners chief market economist Peter Cardillo. "Investors expect that the coming earnings will show more weakness."
Company news. Financials and brokerages took a hit as a Lehman Brothers analyst cut estimates on Citibank (C, Fortune 500), Bank of America (BAC, Fortune 500), UBS (UBS) and other large-cap banks. The analyst said losses from troubled loans will continue to drive down the banks' earnings. An Oppenheimer & Co. and a Punk, Ziegel & Co. analyst also reduced estimates for Merrill Lynch & Co.
Lehman Brothers (LEH, Fortune 500) dropped the most, falling nearly 9% in early trading on rumors that the investment bank could see a bank run similar like Bear Stearns (BSC, Fortune 500), according to Reuters. A Lehman spokeswoman called the rumors "totally unfounded."
Late Wednesday, Oracle (ORCL, Fortune 500) reported quarterly earnings that rose from a year earlier and met estimates on sales that rose from the prior year and missed forecasts. Shares fell more than 7% Thursday and dragged on the Nasdaq composite.
Google (GOOG, Fortune 500) slipped 3% in Nasdaq trade after ComScore said the search leader saw slowing growth in clicks on the company's text ads in February, the second consecutive month of slowing traffic.
Additionally, Lehman Brothers cut its first-quarter and 2008 earnings estimates and its 12-month price target on the search leader, according to reports. Lehman said that Google's advertising could take a hit from the slowing economy.
Gainers included homebuilder Lennar (LEN, Fortune 500), which reported a quarterly loss versus a profit a year earlier, as home prices and home sales slumped amid the housing market fallout. However, Lennar's loss was smaller than what analysts were forecasting, sending the stock higher.
Conagra Foods (CAG, Fortune 500) said it will sell its commodity trading and merchandising business to an investment group for about $2.1 billion in cash and stock. Conagra also reported higher quarterly earnings and sales that topped estimates. Shares jumped around 7%.
Also on the upside, Clear Channel (CCU, Fortune 500) bounced back from the previous day's drubbing after a Texas judge issued an order that stops banks from taking any steps to thwart the closing of the $19.5 billion buyout of the radio broadcaster.
On Wednesday, Clear Channel stock plunged on reports that banks that promised to finance the deal were backing out of providing financing to the private equity firms looking to buy the company.
Market breadth was negative on the day. On the New York Stock Exchange, decliners beat advancers three to two on a volume of 1.4 billion shares. On the Nasdaq, losers also outpaced gainers three to two as about 2 billion shares changed hands.
Economic news. The number of Americans filing new jobless claims were lower than expected last week, the government reported.
In other news, the economy grew at a tepid 0.6% annual rate in the fourth quarter of last year, the Commerce Department reported. It was the final reading on fourth-quarter GDP growth and showed no change from the previous tally. However, it followed growth of 4.9% in the third quarter of 2007.
Friday, reports on personal income, personal spending, inflation, and consumer confidence will be released.
Commodities. U.S. light, crude oil for May delivery settled up $1.68 to $107.58 after surging more than $4 on Wednesday. Oil prices hit a record $111.80 in electronic trading last week.
COMEX gold for April delivery settled down 40 cents to $948.80 an ounce. Gold hit an all-time trading high of $1,033.90 an ounce one week ago.
Other markets. The dollar rose versus the euro and the yen. The greenback hit an all-time low versus the euro and a 13-year low versus the yen last week.
Treasury prices slipped, raising the yield on the benchmark 10-year note to 3.53% from 3.47% late Wednesday. Bond prices and yields move in opposite directions.

Features

These Fortune 100 employers have at least 350 openings each. What are they looking for in a new hire? More

It would be the world's second-biggest economy. See how big companies' sales stack up against GDP over the past decade. More