Follow the money...out of America
More and more investors are investing overseas as a way to diversify as well as escape the recession fears that have plagued Wall Street.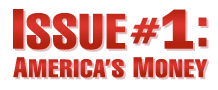 Issue #1: America's Money - Everyday on CNN
NEW YORK (CNNMoney.com) -- Where are investors putting their money in these uncertain times? Apparently, more and more are seeking safer havens in Europe, India, China and Latin America.
With recession fears dogging the U.S. markets, stocks had a dismal first quarter. But according to recent figures from two key research firms that track the mutual fund industry, investors are flocking to overseas markets.
Fund tracker TrimTabs Investment Research reported in its latest weekly report about market liquidity that total inflows into equity mutual funds during the week ended March 26 was $7.43 billion.
But of that total, $4.4 billion, or nearly 60%, was invested in funds that mainly invest in non-U.S. stocks.
What's more, the latest TrimTabs data showed that investors pulled $6.9 billion from exchange-traded funds (ETFs) that invest in U.S. stocks. Meanwhile, ETFs that invest in stocks from outside the U.S. reported inflows of $831 million.
Demand for overseas investments is certainly reaching a fever pitch. In fact, British bank Barclays announced Friday that it was listing two new foreign-themed ETFs on the Nasdaq through its popular iShares offerings.
"These new products give investors exposure to a broad range of international economies," said Noel Archard, head of iShares product development, in a statement.
This trend is a continuation of what happened in the markets last month. Investors are clearly concerned by a variety of factors that are undermining business confidence in the U.S,, such as rising commodity prices, the moribund dollar and weakening consumer spending.
The Investment Company Institute reported Thursday that inflows into stock funds in February totaled $9.5 billion. But of that amount, $5.89 billion, or more than 60%, went into funds that primarily invest in international stocks.
"The unprecedented diversification process of investing away from equity funds that invest primarily in the U.S. in favor of those that invest globally remains well in place," wrote Stefane Marion, an assistant chief economist with National Bank Financial in Montreal, in a report Thursday.
To be sure, as the most recent figures show, investors are not completely fleeing the U.S. But they don't seem to be showing as much faith in U.S.-based companies either. Instead, in addition to putting more money to work abroad, investors are also piling into more stable investments.
According to the ICI report, $14.9 billion flowed into bond funds in February. And that's on top of inflows of $24.3 billion in January.
And money market funds reported a whopping $92.2 billion in inflows last month - and nearly a quarter of that was from individual investors. That comes after inflows of $160.42 billion in January.
This could be a good sign for the domestic markets in the future though. Investors are certainly being extra cautious now, but a lot of money could be quickly rotated into stocks if the economy and markets take a turn for the better in the second half of 2008, as some expect.
Marion points out that 29% of the net assets in all mutual funds in February were in cash, the highest level since October 2003. All that money is sitting on the sidelines due to fears of the U.S. economy deteriorating even further.
But if the Fed's series of rate cuts since last September and the tax rebate checks that will soon go out to consumers help get the economy back on track (admittedly, a big if), then you'd have to think that long-term investors will no longer want to keep their money in something that offers as low a return as a bond fund or money-market fund.
Heck, some investors might even decide to look closer to home for some bargain companies to buy instead of focusing as much on international markets.
After all, since many international stocks have already enjoyed big run-ups, now might be a better time to invest in U.S. companies that can also benefit from strong demand overseas.
"People have a rear-view mirror bias. They are chasing what has worked," said Brad Thompson, director of strategy and research with Frost Investment Advisors in San Antonio. "Globalization is important but we are playing it by increasing exposure to high-quality U.S. stocks with a global presence."
Along those lines, Thompson said his firm, which manages about $10 billion in assets, likes Caterpillar (CAT, Fortune 500), agricultural giant Monsanto (MON, Fortune 500), Google (GOOG, Fortune 500) and handbag maker Coach (COH).
Issue #1 - America's Money: All this week at noon, CNN explains how the weakening economy affects you. Full coverage.
Have you lost your job, your business or your home? Are you raiding retirement accounts to pay the bills? We want to hear from you. Tell us how you're being affected by the weakening economy and you could be profiled in an upcoming story. Send emails to realstories@cnnmoney.com.

Features

These Fortune 100 employers have at least 350 openings each. What are they looking for in a new hire? More

It would be the world's second-biggest economy. See how big companies' sales stack up against GDP over the past decade. More