Economy still sputtering
Gross domestic product rises in first quarter at same sluggish pace as prior quarter, although it narrowly tops forecasts.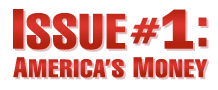 Issue #1: America's Money - Everyday on CNN
NEW YORK (CNNMoney.com) -- The nation's economy continued its sluggish growth in the first quarter, according to a government report Wednesday that showed a slightly better-than-expected gain in economic activity.
Gross domestic product, a broad measure of the economy, rose at an annual rate of 0.6% in the first three months of the year, when adjusted for inflation. That matched the rise achieved in the fourth quarter as well as in the year-earlier period.
Economists surveyed by Briefing.com had forecast a 0.5% gain for the first quarter.
There has been a growing belief among many economists that the economy is in a recession, having fallen into it either late last year or during the course of the first quarter. Employers cut 232,000 jobs in the first three months of 2008 and consumers pulled back on spending in the face of higher prices.
The most common definition of a recession is two consecutive quarters in which GDP is negative, although the official designation of an economic downturn is based on broader measures as determined by the National Bureau of Economic Research.
The GDP reading was helped by a strong build in business inventories, following a deep cut in the fourth quarter. It was also helped by a smaller trade gap as a weaker dollar made U.S. exports more competitive elsewhere in the world. A pickup in government spending, particularly a 6% rise in defense spending by the federal government, also boosted GDP.
Shift in consumer spending...
Consumer spending also continued to increase, although it slowed to a 1% growth rate from the 2.3% growth in the fourth quarter.
"The risk to growth was that consumer spending would have fallen," said Rich Yamarone, director of economic research at Argus Research.
Yamarone said that one reason consumer spending has held up is because spending has shifted rather than completely drying up.
As such, consumers cut inflation-adjusted purchases on both big-ticket durable goods, which plunged 6.1%, and on nondurable goods, such as gasoline and food, which fell 1.3%. But spending on services rose 3.4%.
Yamarone said the report further convinces him that the economy will be able to dodge a recession, especially as consumers start cashing checks they are receiving as part of an economic stimulus package and benefit from the series of interest rate cuts by the Federal Reserve.
...but business spending is sluggish
Still, problems in construction, particularly home building, continued to be a drag on economic growth. Spending on residential construction plunged nearly 27% on an annual basis, the steepest decline yet in a string of eight straight quarters of double-digit drops.
There were also broad declines in all forms of private sector investment, including spending on equipment and software. That suggests more weakness ahead on the business spending front.
While the GDP reading raises questions about the common belief that the economy is already in recession, there is still a chance the number could be revised lower in future readings.
And some economists said the positive number did not change their thinking about the overall weakness in the economy.
"Nearly all the indicators in the report are grim," said economist Josh Bivens of the Economic Policy Institute, a liberal think tank. "Despite the barely-positive growth, we are almost certainly in a recession. There's nothing magical about staying above zero. In fact, annual growth of less than 2.5% is a recipe for rising unemployment."
Lakshman Achuthan, managing director of the Economic Cycle Research Institute, said without the strong exports, GDP would have fallen.
"We cannot and should not sugarcoat this number," he said. "It's not a healthy number in terms of the U.S. business cycle. The domestic economy actually shrank. Exports are just not that central to the U.S. economy."
Could see decline in second quarter
Achuthan believes that the first quarter GDP is likely to eventually be revised to a negative number, and that a negative GDP for the second quarter is also likely. But even if first quarter GDP is never revised below zero, he is certain the economy is already in recession.
"The idea that you must have two negative quarters of GDP to have a recession is completely wrong," he said. "By that measure there was no recession in 2001 when we lost millions of jobs and half the value of the stock market. No one denies there was a recession then."
The Fed has cited the risk of a slowdown as it has slashed the target for its key interest rate by 3 percentage points since September. Central bank policymakers are meeting again Wednesday and are widely expected to announce another quarter-point rate cut at 2:15 p.m. ET.
Many economists and investors believe the Fed will leave rates unchanged after Wednesday's meeting, due partly to concerns about the falling dollar and rising price pressures.
The GDP report had some good news on the inflation front. The so-called PCE deflator, which measures the prices paid for goods by consumers, rose by 3.5%, down from a 3.9% rise in the fourth quarter.
The core PCE deflator, which strips out food and energy prices, was up 2.2%, versus a 2.5% rise in the fourth quarter, and closer to what is generally believed to be the central bank's comfort zone of a 1% to 2% rise.

Features

These Fortune 100 employers have at least 350 openings each. What are they looking for in a new hire? More

It would be the world's second-biggest economy. See how big companies' sales stack up against GDP over the past decade. More