Silicon Valley Beard-off!
It takes more than leading-edge technology and a Stanford MBA to make it big in high tech. Apparently it takes whiskers.
(Fortune Magazine) -- Ancient symbols of power and virility, beards have gone hand-and-chin with computers at least as far back as the Home Brew Computer Club and the early days of Unix. Let's face it, engineers are better known for software than fashion sense, and nothing says "I have been holed up for the last month in a cubicle swilling Mountain Dew and coding in Objective-C" than stubble gone to seed.
But who's got the fairest beard of all? To find out, we combed the Valley for the most eligible whiskers, assembled a panel of distinguished judges, and organized the first official Fortune beard-off. (For more tonsorial news, see Fortune's look at CEO hairstyles.) Gentlemen, show us your chin hair!
Our panel of judges
Jack Passion: Reigning world champ of beards in the "natural full beard" category.
Phil Olsen: Founder and captain of Beard Team U.S.A., which has five first-place finishes.
John Allan: Stylish owner of a chain of grooming clubs in New York City and Chicago.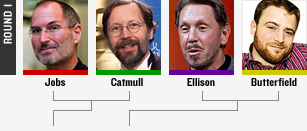 Round 1 Jobs' beard is sparse, but he's done a lot for facial hair over the years. Catmull's is saying, "I know more math than you." Moses, Jesus... Larry Ellison is on that list. Butterfield, I can tell, has gone through puberty.
-Jack Passion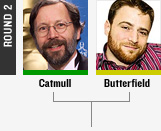 Round 2 Catmull is showing a commitment to his beard; it balances the hair on his head. In time, Simmons could have the best beard in the Valley, but I like the color in Butterfield's. I'm going with Butterfield.
-Phil Olsen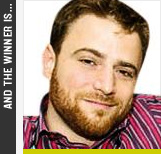 WINNER: STEWART BUTTERFIELD. His beard is trimmed nicely, edgy, yet mature, so he doesn't look 18 sitting in front of investors. Now that's a snapshot!
-John Allan
Photos: Michael Germana/Landov (Wozniak); Chris Ratcliffe/Bloomberg News/Landov (Jobs); Mike Blake/Reuters/Landov (Catmull); Boris Roessler/DPA/Landov (Wales); Yelp (Simmons); Kimberly White/Bloomberg News/Landov (Ellison); Phil Wainewright (Nelson); Jarda Brych (Butterfield).
More beards
Time's gallery of the The World Beard and Moustache Championships
Bay Area fans have taken to wearing paper copies of point guard Baron Davis's distinctive beard. Get yours for next season at fearthebeard.org.